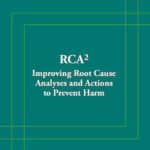 The National Patient Safety Foundation has issued a new set of guidelines that aims to help healthcare facilities improve patient safety by identifying potential hazards in advance. The report RCA2: Improving Root Cause Analyses and Actions to Prevent Harm outlines how root cause analysis (RCA) in healthcare facilities, often used to study adverse events and develop strategies to prevent them, often lacks standardization. This absence of clear processes can contribute to ineffective fixes, leading to similar adverse events at the same health facility or organization.
"NPSF heard from many health professionals about the need for best practices around RCA," said Tejal K. Gandhi, MD, president and chief executive of NPSF. "We wanted to help those in the field improve their processes with a standardized approach and with the ultimate goal of preventing harm."
According to the report, facilities should perform Root Cause Analysis and Action (RCA2). Unlike RCA, which implies a single root cause in spite of what might be several contributing factors, RCA2 encourages facilities to proactively eliminate or control systems hazards and vulnerabilities rather than conducting a retrospective analysis after an event has taken place.
The report highlights a number of ways facilities can improve their use of root cause analyses:
Health facility leaders should be actively involved in the RCA2 process and review the process annually for effectiveness
Facilities should define events that are not appropriate for RCA2 review.
A formal, risk-based system should be used to prioritize and identify adverse events and system vulnerabilities requiring RCA2 review.
RCA2 reviews should take place no more than 72 hours after the need for a review is recognized.
RCA2 teams should include four to six people representing all levels of the organization. Meetings for involved staff should take place during normal work hours.
RCA2 tools, including flow diagramming and the five rules of causation, should be used during the process.
The process should include feedback to all staff involved in an adverse event, along with patients and their families.
The full report is available for download at the
NSPF website
. The foundation will also hold a
free webinar
on July 15, 2015 to discuss the report.