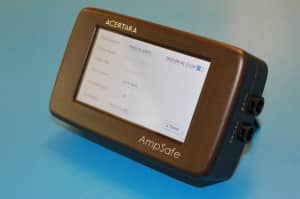 Acertara Acoustic Laboratories, an independent ultrasound testing and calibration laboratory based in Longmont, Colo, recently surpassed testing of 75,000 diagnostic ultrasound probes, a company milestone. The company also has issued two new probe devices, the AmpSafe transducer electrical leakage tester and the Advantage tissue mimicking phantom.
"Our mission since founding Sonora in October of 1996, and our ongoing mission at Acertara, is to develop innovative testing technologies that can provide quantitative data on the health of ultrasound probes, and partner with hospitals to help them not only provide higher quality and more consistent ultrasound studies, but provide them with substantial savings on probe maintenance," said G. Wayne Moore, president and CEO of Acertara.
Acertara was originally formed as Sonora Medical Systems and issued its first commercial ultrasound probe testing device, FirstCall, in 1997. Since then, more than 20 peer-reviewed articles have been published exploring the effect of various probe repair defects on the quality of diagnostic studies, according to the company. Acertara's probe testing devices are currently used in more than 600 hospitals across the United States and Europe. The company also maintains the largest database in the world on ultrasound probes in clinical use, which can provide useful information for developing future probe repair processes, procedures, and tooling, Acertara says.
"Our R&D team is focused on unraveling the new technologies being used in probes, such as 2D matrix arrays and minibeamformer ASICs, and developing testing and repair devices and tools that keep pace with those technologies," Moore said.
For more information, visit Acertara Acoustic Laboratories.