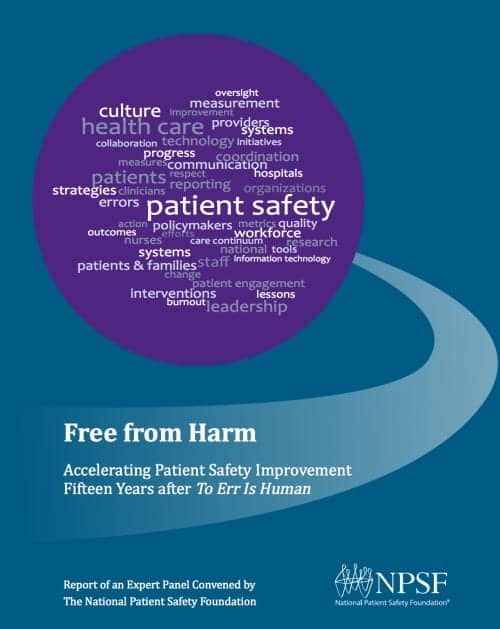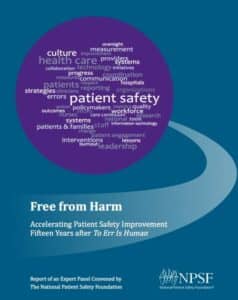 In the decade and a half since the Institute of Medicine published To Err Is Human, the landmark report citing the pervasive impact of widespread medical errors on the healthcare industry, not nearly enough has been done to improve patient safety, according to a new report from the National Patient Safety Foundation (NPSF). Free from Harm: Accelerating Patient Safety Improvement Fifteen Years after To Err Is Human calls on government regulators, health professionals, and others to take a "total systems approach" to advance a culture of safety.
"The field of patient safety has not achieved enough, despite definite progress having been made," said Tejal K. Gandhi, MD, president and CEO of the NPSF. "Healthcare is still not nearly as safe as it can and should be, and the recommendations of this expert panel set a path for achieving total system safety and making safety a primary focus."
The report was produced by a panel commissioned earlier this year to evaluate the state of patient safety and set safety objectives for the next 15 years. The experts were led by cochairs Donald M. Berwick, MD, president emeritus and senior fellow at the Institute for Healthcare Improvement, and Kaveh G. Shojania, MD, director of the Centre for Quality Improvement and Patient Safety at the University of Toronto.
The report includes eight recommendations for achieving total system safety, including:
Ensure that leaders establish and sustain a safety culture
Create centralized and coordinated oversight of patient safety
Create a common set of safety metrics that reflect meaningful outcomes
Increase funding for research in patient safety and implementation science
Address safety across the entire care continuum
Support the healthcare workforce
Partner with patients and families for the safest care
Ensure that technology is safe and optimized to improve patient safety
Among the challenges identified in the report are the migration of healthcare to nonhospital settings. Although safety strides have been made at hospitals, little has been done to combat errors at locations where the majority of care now takes place, the report argues. Medical errors can lead to longer hospitalizations and additional required care, as well as lasting harm and even death.
"Despite some significant successes, we know that far too many people still suffer from avoidable injuries in care," said Berwick. "One of the objectives of this new work was to identify the gaps and outline the actions to save far more lives and avert far more harm."
The findings from the report are being discussed at the 27th Annual National Forum on Quality Improvement in Healthcare taking place this week in Orlando. The report and an executive summary are available for download on the NPSF website, along with an infographic summarizing the report.