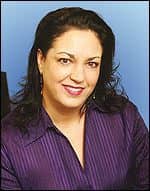 Julie Kirst, Editor
New Year. Time to take stock of life and work, and welcome new opportunities and new directions. Have you made your resolutions yet? At 24×7, our resolve remains the same—to give you a community, a voice, and connect you with the information and people that will help you expand your professional horizons and skills.
Have you noticed how much your career growth involves "connections"? Whether it's devices or people, we offer avenues to help you do that on all levels. Our blog connects you with colleagues, ideas, and proven tips to help you solve problems and expand your tool kit. Do you have an idea you want to share? Have a problem you need help with? E-mail me and I'll post it on your behalf. From there, we invite comments, suggestions, and answers from the profession at large.
Have you LinkedIn yet? LinkedIn, a business-focused social networking site, helps members stay up-to-date with their industry and with what their contacts are doing. Since many of you use the site, we recently started a 24×7 group to provide one more way for you to connect. If you haven't made your way to LinkedIn yet, come by, join the group, and feel free to start a discussion or participate in one already started.
In addition to our print magazine, we disseminate information through our online weekly e-newsletter the Weekly Jolt; through news, the rotating palette, and other notices on our home page; on our Facebook page; and on our Twitter page. We invite you to connect with us and your colleagues in all these forums.
To further inform you, we have an online calendar you can check to find events and classes. We urge you to make use of it and post events for your associations and classes—it's free!
We also have a new poll going on our home page. With the proliferation of "smart" devices, we would like to know if your employer provides a smartphone for you to use at work and, if not, if you use your own with apps for work. Check it out and let us know.
If you participated in the last poll, the results are in. We asked: In determining the minimal staffing level required to run an effective biomedical engineering program, is the unit of service based on inventory or patient adjusted discharge?—and 89.7% of the responses indicated inventory.
Your responses to our polls and various surveys help us understand your needs better. Our editorial advisory board also keeps us updated, and on that note we welcome Dennis Minsent, MSBE, CCE, CBET, the director of clinical technology services at Oregon Health & Science University in Portland, to our board. Dennis originally kicked off our Networking column as the monthly author a few years ago and has since contributed his expertise to other articles on various subjects. We thank him for joining us and also thank all our board members for their time and assistance.
With the financial upheaval of the past couple of years, many of you have been forced to take new paths, and some of the time they may not have felt like positive opportunities. Economics and innovation have changed the needs of the industry, and as this profession continues to evolve, 24×7 will remain true to its commitment to provide key facts that will keep you on top of the information curve and enable you to perform your work with expertise. Keep an eye on our home page for new ideas in the works for 2011.
Use these links to get involved and stay informed:
Julie Kirst