This article will review how to attain continuous compliance with The Joint Commission standard EC.02.04.03. The standard EC.02.04.03 addresses the requirements for the inspection, testing, and maintenance of medical equipment. It has five elements of performance (EP). All these EPs require keeping and maintaining documentation of maintenance records. Creating, obtaining, and keeping accurate, well-organized maintenance records requires continuous effort, as well as close cooperation among the in-house biomedical staff, vendors, and the clinical staff. The guidelines (see box at right below) will assist the biomedical/clinical engineering staff in keeping accurate maintenance records.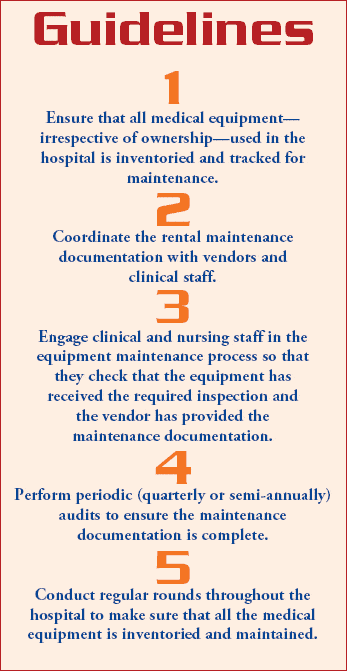 EC.02.04.03 EP 1
This EP requires that the medical equipment be checked for operation, functionality, and safety before its initial use. Institutional policies must be in place and followed that require that biomedical/clinical engineering be notified about all medical equipment brought into the hospital to ensure that it is checked for performance and safety. Biomedical/clinical engineering should work in close collaboration with purchasing, user departments, vendors, and other involved departments to make sure that all equipment, irrespective of ownership, is checked for performance before it is used on the patient. The checks should include all equipment (eg, rentals, leased, patient-owned, and vendor-provided demo equipment) besides the hospital-owned equipment.
EC.02.04.03 EP 2
This EP requires that documented maintenance on life-support equipment be maintained at 100%. It is a challenging requirement to have 100% maintenance completed every month. Life-support items maintained by vendors should be scheduled in advance so that they get completed on time. Also, life-support items should be identified properly on the PM schedule and completed first. The Joint Commission's definition of life-support equipment and the examples it provides should be referred to when identifying items on the inventory.
EC.02.04.03 EP 3
This EP requires documented maintenance on non–life-support equipment. All the non–life-support equipment should be evaluated for an appropriate maintenance strategy. Equipment that does not require scheduled maintenance should be handled with appropriate maintenance strategies like corrective maintenance. Corrective maintenance is maintenance performed on equipment that has failed or is not in working order.
EC.02.04.03 EP 4
This EP requires documented performance testing and the maintenance of all sterilizers. It has two components:
Performance testing, which is usually done by the users; and
Maintenance, which is done by the biomedical staff or vendors.
EC.02.04.03 EP 5
| | |
| --- | --- |
| | Find past CCE Prep and ICC Prep columns in the 24×7 archives. |
This EP requires documented dialysis equipment maintenance and chemical and biological testing of water used in hemodialysis. It has two components:
Water testing, which is usually done by the users or vendors; and
Maintenance, which is done by the biomedical staff or vendors.
---
Arif Subhan, MS, CCE, is the chief biomedical engineer, VA Nebraska-Western Iowa Health Care System, Omaha, Neb; adjunct assistant professor, biomedical engineering, University of Connecticut; and a member of 24×7's editorial advisory board. For more information, contact .
Review Questions
The Joint Commission standards require that the medical equipment be checked for operation, functionality, and safety ____.

Before it is used on a patient
Within 30 days of use on a patient
Within 24 hours of use on a patient
None of the above

See the answer

The Joint Commission standards require the following categories of medical equipment be checked for operation, functionality, and safety before they are used on a patient ____.

Rental and leased equipment
Hospital-owned equipment
Vendor-provided demo equipment
All of the above

See the answer

In order to keep a 100% maintenance completion on life-support equipment, the following strategies should be followed: The life-support items should be ____.

Scheduled in advance so that they get completed on time
Identified properly on the maintenance schedule
Completed before non–life-support items
All of the above

See the answer

Joint Commission standard EC.02.04.03 addresses the requirements for the inspection, testing, and maintenance of medical equipment and has ____ elements of performance (EP).

Five
Six
Eight
None of the above

See the answer