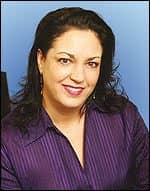 Julie Kirst, Editor
We are becoming more interactive. Through blogging, social networking, and e-mail, 24×7 offers many ways to communicate.
For instance, within the last couple of months I have received e-mails from readers suggesting that I take a look at the talented female biomeds who make up the profession. A couple of posts on the Biomedtalk listserv sparked most of the e-mails, and overall it sounds like a good idea to me. So, maybe I should call this "calling all women and their supporters," because I'm depending on all of you to let me know about yourself (if you're a woman in the profession), or about women you work with, or have worked with, who deserve some recognition.
We have featured a few women on our covers, but 24×7 would like to do a feature that highlights the varied work environments and challenges of the women working in the field. These days, there's no question that more BMETs and CEs are needed, so hearing a woman's perspective on why she chose this field can provide new insights into how to recruit more men and women into the field.
As we continue to expand our reach and provide multiple ways to connect with our readers, we've branched into the social networking sites to provide business information. Are you a fan of 24×7 on Facebook yet? It provides a forum for you to tell colleagues about an upcoming association meeting or to post photos from your last one. Our Facebook page has automatic updates on news and job postings as well as information on the next issue in the mail to you.
While you're roaming the Web, follow us on Twitter. You'll see blog and news updates, and as we progress we will post other information of interest to you.
Our Online Calendar is another way to let your colleagues know about classes and meetings, and you can add your listings months in advance, anytime of the day or night.
Even more interactive is our Biomeds' Best Practices Blog. Be sure to check out the blog postings and share your comments with others. We are always on the lookout for your "best practice" to benefit others doing the same work you are. As everyone takes on more work, any tip on how to make a job easier or faster is welcome. You know your challenges better than anyone, and your experienced solutions can make the difference in a heavy workday. Do you have a great idea? Send it to me at and I'll post it on your behalf.
A new venture will come in August when we present a Podcast on Benchmarking. The three-part series will air in August—stay tuned for the dates—and will introduce you to benchmarking, provide guidelines on what data to collect, and then offer tips on how to use the information you track.
August also brings the start of our Annual Compensation Survey. Please log on to www.24x7mag.com/survey and complete the survey. Your confidential answers represent valuable information that we will publish in the December issue.
Our goal is to continue to provide new and timely information that will enable you to do your jobs more efficiently, and your participation will help us reach those goals. E-mail me or blog—either way, your voice will be heard.
Julie Kirst