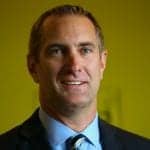 Founded in 2002, Global Medical Imaging offers new and refurbished ultrasound and nuclear medicine equipment, as well as parts, service, training, and repair from its home base in Charlotte, NC. Among its most popular services is its HotSwap program, introduced in 2009 as a fast track option for getting customers replacement transducers. GMI is also known to some HTM professionals as the employer of Pat Lynch, one of the most visible biomeds working today.
As the company's director of sales and marketing since 2012, Dave Lamoureux oversees the sales teams and customer service force while collaborating with GMI leadership to drive forward organizational strategies. Originally trained as a biomed, he worked as an ultrasound field engineer for Acuson, Siemens, and Toshiba before joining GMI in 2005 and quickly transitioning to the sales side. He spoke with 24×7 about the company's evolution and expansion into nuclear medicine, the trends he has observed in HTM departments and the ultrasound space, and challenges posed by EHR integration.
24×7: Tell us about GMI's product and service offerings. Which area makes up the majority of your business?
Lamoureux: We were founded in 2002 as a brand-indifferent ultrasound sales company selling ultrasound machines to the end user in the private practice market. We were backing all of our systems with a minimum 1-year warranty, so out of that grew the need to have a service team and parts warehouse in order to support the end user. The number one failure item on any ultrasound machine is the probe, so in 2005, we dove into doing probe repair.
In 2008, we were primarily an ultrasound sales company, selling the capital equipment to the end user, and we had the services to back it up: field service, part sales, training, probe repair. When the economy tanked, we started marketing more to hospitals. Capital equipment purchases declined dramatically, but our services skyrocketed, so we were still able to grow significantly in a tough economy. Today, approximately 65% of our business is services, and 35% of it is capital equipment.
24×7: How much have capital equipment sales recovered from what you saw before?
Lamoureux: It's come back dramatically over the last couple of years. While our services continue to grow, the growth in our capital equipment side of the business is outpacing the services sales because we're selling into more markets as we expand our outside sales team. Point of care is a big area of opportunity across the board for many organizations. That's where we're seeing a lot of the growth in the ultrasound industry.
24×7: In 2009, you added nuclear imaging support. How has that business grown compared to the ultrasound sector?
Lamoureux: Today it's still a fairly small piece of our organization, only because the service to support the nuclear cameras is different from that of an ultrasound machine. A lot of times with an ultrasound system, we can FedEx a part to someone and give them a little bit of tech support over the phone. In order to do nuclear camera service, it requires an onsite presence, whether that be GMI's service engineers or a trained engineer at the facility. In order to offer our customers the same level of quality service, we're steady and methodical about the way we're growing the nuclear camera sales and service component of our business. That being said, it's still an area of focus. We've planted the seed and it will have more significant growth over the coming years.
24×7: Do you have plans to add any other modalities down the road?
Lamoureux: If our customers have a need that arises and they really want us to help them support another modality, we'll look at that strategically. But for right now, we need to continue to grow our capabilities and service footprint density in nuclear medicine. We feel there's a lot of runway left not only for that but also a national provider for ultrasound field service.
24×7: What is the HotSwap program? What makes that service valuable for your customers?
Lamoureux: We came up with this idea back in the latter part of 2008, and we've seen several other organizations mimic what we put in place. The Hotswap program starts when we send a next-day loaner transducer to keep our customer up and running during the repair process of their transducer. When we get their defective probe into our facility, we'll evaluate that transducer and let them know exactly what it will take to repair it and get it back into diagnostic working order. At that point, we'll offer the customer the option to HotSwap the probe, or rather keep the loaner probe and only pay the price of the required repairs on their transducer.
There are many advantages to going with the HotSwap option, as opposed to what other companies might say is a repair-by-exchange. You get a faster transaction resolution and shipping costs are cut in half. You only pay the cost of the required diagnostic repairs, not some of the optional repairs, such as cosmetics. You also get a warranty extended on the entire transducer that we sent to you as a loaner, not just the repair that we would have performed on yours. Lastly, you get the best of both worlds. You get the repair pricing on a replacement probe.
24×7: What type of facilities makes up most of GMI's customers?
Lamoureux: We support everything from the single physician that has an ultrasound machine in one location up to large healthcare integrated delivery networks (IDNs) and asset management organizations. Whether the facility has a biomedical or clinical engineering department, we can support them with training, parts, tech support, and probe repair so that they can perform the service. Or one of our field engineers can support them, if they don't have the manpower and training necessary to support their equipment themselves. In some other instances, even if they do have their own team, they may need additional assistance from our field service team to augment their own manpower because of vacations or increased workload.
24×7: What sorts of trends are you seeing with the HTM teams you work with?
Lamoureux: In the past, a lot of clinical engineering or HTM departments weren't looking at bringing ultrasound in-house. However, the trend has been changing and ultrasound has become the modality that is often chosen first to be taken off service contract and perhaps used as a segue to get into some of the other imaging modalities within their facilities. Across the board, we're seeing more facilities take on the risk of supporting their own imaging equipment by utilizing other external organizations or ISOs that can support them with training, parts, and backup assistance if necessary. That's one of the big trends we've seen seeing since 2008, and it's still growing dramatically.
As far as challenges, I think just staying abreast of what the training needs are on the equipment as it rolls off of warranty or service contract and being able to get the engineers or HTM service technicians the support that they need. We've seen travel and training budgets being reduced dramatically over the last few years. If you want to get rid of service contracts, you need to make sure you have an adequate service and training budget to get the engineers trained so they can proficiently maintain their equipment.
24×7: How have you been affected by confusion over the new CMS alternative equipment maintenance guidelines?
Lamoureux: There have been a lot of questions in and around support of the systems when it comes to the PM procedures. Not only that, the OEMs themselves have gone from recommending several PMs per year to either once a year or every other year, and some manufacturers such as SonoSite are saying never at all. There are many different directives based on each platform model and even in terms of when the manual for that system was reprinted. They've changed their standards over time based on mean-time-between-failures risk assessment.
That being said, in order to make sure that the system is serviced and supported the way that it should be and in order to mitigate some of the failures that can be caught early on, we recommend that a system, especially in the hospital environment, should be PMed twice annually. We've uploaded a summary of PM guidelines that adhere to the ACR accreditation standards on our website. We looked at the PM procedures for 57 of the current market-leading systems that we support from GE, Philips, and Siemens. The procedures that we put online either meet or exceed all of those requirements by those OEMs. It's a very good guideline in order to start building an in-house PM program.
24×7: What trends are you seeing in terms of the growth of ultrasound?
Lamoureux: In the private practice market, many physicians are looking to replace the ultrasound they have had for a number of years. With the hospital market and some of the other point of care markets—emergency medicine, as well as anesthesia and pain management—those are still largely growing markets for the ultrasound modality. Instead of doing an MRI for a large sum of money, clinicians can quickly do a scan with an ultrasound machine and get a similar diagnosis. Especially with miniaturization, you're seeing a lot of smaller portable systems that can compete with the larger cart-based systems. Newer transducers like the single-crystal transducers are giving much better image quality as well.
24×7: What is your role as far as EHR integration for the equipment you service?
Lamoureux: Sometimes we're trying to figure out how to efficiently transfer images over to an EHR system. Typically we're seeing the connectivity going to the PACS/HIS/RIS systems, and making sure we can get that configured properly. There is a lot of work on the front end to make sure we can get a customer's information where it needs to go.
24×7: What is the biggest challenge you deal with?
Lamoureux: Being able to get on the same page with the IT departments in some organizations so that we can be viewed as a partner. A lot of times, they can make it difficult to exchange information with us when we're trying to really help them and get their ultrasound systems connected to their either PACS or EMR system. The key is sitting down and having all the right players at the table on the front end, coming up with a game plan on how to implement that strategy, and then going out and executing it.
24×7: If a hospital purchases a system through you, do you take care of all the integration on the front end at the point of purchase?
Lamoureux: A lot of that responsibility still lies on the facility side, and with the OEMs. There's nothing we can do to make any changes downstream to the programming or output of an ultrasound machine because we're not the manufacturer. Over time, there may need to be some software updates added to a machine to give it the integration it needs. I don't know if or when we'll ever get to the point where everything will connect with all EHR systems. I think we're getting there, but it's going to be very difficult to get all the manufacturers talking the same language and wanting to meet the same expectations.
24×7: What topics seem to be a source of anxiety for biomeds?
Lamoureux: There are a lot of different concerns, some of which are going to be more from the management perspective—being able to stay on top of new requirements for the Joint Commission and DNV as their presence continues to grow, as well as what the CMS guidelines are, and how those two or three come together. I think the key for any biomeds is making sure they're brushed up on current technology and training as much as possible, and trying to be a constant learner. For the manager, it is staying on top of the ever-changing requirements.
I was trained as a biomed and was a biomed early on in my career. We really need to have that interface with the clinicians to ensure that we're viewed as a team member, a unified front, and we're there to help them. In some healthcare organizations that I see out there, the biomeds will see the clinicians as their customers. And I think the ones that do have a higher level of customer satisfaction and a very tight working relationship with those folks. When something comes up, whether it be capital purchases, replacing equipment, or any sort of a need, they really look to the biomeds to assist them in making the best decision for their clinical and operational teams.
24×7: Do you see those biomeds as having more job security, or at least more job satisfaction?
Lamoureux: For sure being able to provide support and solve issues in the work place is very gratifying on a personal level and it increases customer satisfaction at the same time. It's a win-win. I don't care what OEM you are, the onsite biomed—whether that's a hospital employee or an asset management employee—can better support that equipment, with the right training, than any manufacturer. If a system goes down in the OR, it's not always a catastrophic failure. The biomed that can be up in that OR in 5 to 10 minutes and get the system back online is better than any external field service engineer. If we can arm them with the right training, tech support, and quality parts, they're typically going to be stronger. Of course, the OEMs must have a presence. We all need them, whether it be for software, training, or general support. But I think the two or three combined—the OEM, some ISOs, and the onsite team—can best support the end user with the equipment.
Jenny Lower is the managing editor of 24×7. Contact her at [email protected].