Driven to begin outreach in the 1980s, the Iowa Health
team now finds its efforts ahead of the curve
By Renee Diiulio
Health care facilities started struggling long before the recession, and without implementing changes, they are likely to continue their struggles long afterward. To ensure survival, many have opted for change, with the result that some of the newest trends in the field are more about business than medicine. This, however, does not mean the patient sacrifices—positive patient outcomes based on strong evidence continue to guide care. Rather, it means the framework through which this care is delivered is changing, in part to ensure that quality remains high.
Some hospital systems began seeking new sources of efficiency and revenue outside of medical science. Many have embraced Lean and Six Sigma philosophies; standardization of equipment is becoming, well, standard; and partnerships are giving way to acquisitions. Smaller hospitals are growing larger in similar ways. And independent providers may find it tempting to consider selling their business, particularly as they face continued financial pressures, including retirement.
One thing remains the same, however: They all use biomedical equipment, and they all share similar challenges related to service and maintenance. And so they share similar solutions, meaning a biomedical outreach program can provide just as much value to outside clients and in-house revenues as laboratory or imaging services.
Some health care organizations realized this long ago, often driven more by altruism than financial gain. Today, with what seems to be a reward in kind, they are ahead of the game, having had time to hone their operations, acquire expansive experience, and develop a market presence.
The clinical engineering team of Iowa Health Des Moines, part of the Iowa Health System, is one such group. "Our outreach effort evolved from the community and is a big part of the reason we still exist," says Greg Doherty, manager of bio-tech for Iowa Health Des Moines. Having provided services to outside clients since the early 1980s, the group has learned from its mistakes and successes and continues to pave roads less taken.
Astute Architecture
The clinical engineering team at Iowa Health Des Moines, or IHDM, falls under the integrated services branch of the organization led by director Troy Schooley (another move that was ahead of the curve). An IT specialist has been on the biomed team with a counterpart on the IT side for about 12 years. "With technology moving toward total integration with IT, our specialist has been consulted throughout our system," Doherty says.
The Des Moines segment of Iowa Health covers four hospitals, roughly 8,000 employees, and 33,980 active inventory devices, according to Doherty. The biomed department employs 29 staff and is divided into three departments based primarily on the type of work handled: imaging, biomedical, and outreach. Within each group and shop, technicians have developed specialties regarding the equipment they handle.
Richard Heck, MS, BME, EE, a biomedical engineer on the team, estimates the department manages approximately 99% of the device inventory in-house, with some items covered by shared service agreements. "Most of the shared service agreements are reduced contracts because we do as much service as we can," Heck says.
Clinical engineering holds responsibility for the repair budgets of all the departments within the Des Moines system. "We originated our 'superfund,' as we call it, in 1997 and reduced the hospital's related budget by $5 million dollars that first year," Heck says.
Numbers can help to show the value of what is traditionally considered a cost department and not a revenue generator. To develop this data for an evidence-focused field, Doherty carefully tracks savings generated by the department to tout the group's value (advice he recommends for all biomedical teams). He proudly shares that the IHDM clinical engineering department has saved the health care organization more than $1 million, year-to-date, through the reduction or elimination of contracts. "We recently reduced five contracts by a total of $100,000 by sending one technician to training," Doherty says.
Business Building Blocks
Training and partnership have been key to the successful efforts of the IHDM clinical engineering team. "We partner with individual departments and service lines within the health system," Doherty says, noting this can apply to integrating technology or acquiring new equipment. When capital investment is involved, training is woven in.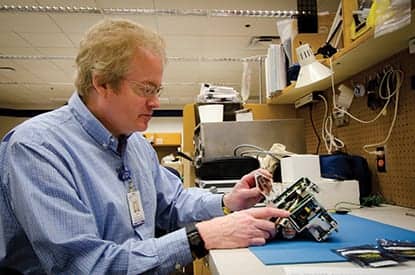 Kirk Bowlsby performs a repair on a pump.
"We evaluate the cost of ownership and consider training when purchasing new technology, but we evaluate it from the perspective of reducing costs to the health care system," Heck says. A primary question, therefore, looks at what type of training is necessary to reduce cost. Where possible, internal efforts are made.
Shadowing and real-time assistance (whether face-to-face or on the phone) are routine for the team. "If a team member gets stuck, he can make a phone call and find someone with the expertise to walk him through it, so that informal training helps everyone along," says Randy Willey, IHDM bio-tech imaging specialist. A technician need never walk away from a problem because he does not know how to solve it.
The focus on training, both external and internal, has led to extraordinary expertise and superior service, which in turn has led to a stellar reputation and strong word-of-mouth marketing. Client testimonials are often raves.
"Our biomed department … is willing to help us out with all of our needs 24 hours a day, 7 days a week," says IHDM respiratory care manager Julie Jackson, BAS, RRT, RCP, ACCS. "There have been numerous times they have dropped everything they were doing to come to our needs on equipment that isn't functioning correctly that we needed turned around immediately."
Community Chronicle
"We do go out of our way to help solve customers' needs, which is a reflection of the quality of our technicians. That level of extra effort is very easily noted by the customer, who is then very willing to recommend us to the next potential customer," Heck says.
The Iowa Health System has been a pioneer of efforts that more institutions are finding make good sense for patient care and business.
In this way, the outreach effort at IHDM has grown from an altruistic venture into a revenue generator. "The business started in the early '80s as part of the hospital's commitment to provide a community service," Heck says.
Around 1984, a separate corporation was formed under the umbrella of the broader health care system, which contracted biomed services to both outside clients and the health system's facilities. The organizational move was motivated by financial concerns, including tax benefits. Roughly 10 years later, the administration decided to bring the biomedical business back in-house as a department.
Today, the outreach branch serves 200 active clients, ranging from hospitals to clinical surgery centers (not necessarily affiliated with the health system) to physician's offices to one-time customers. "An average pedestrian could walk in off the street with a piece of equipment, and we will assist them," says John Klein, supervisor of IHDM's bio-tech outreach arm. The team has even been called upon by vendors, for which the IHDM biomedical department can serve as a repair center. Maintaining good relationships with vendors is a key part of the department's creed.
Development Decisions
Klein credits the evolution of the team's operating philosophies to the influence of the group's leader when the department arm first originated; he was both a clinical engineer and a business entrepreneur. "His business acumen led to agreements and affiliations that benefited the bio-tech corporation and helped it evolve to offer value as an in-house department and a profit center," Klein says.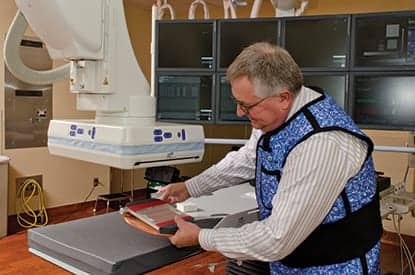 Jerry Chance performs a PM in the cath lab.
Decisions were, and continue to be, made after a thorough analysis of the potential impact on patient care, system economy, and value. New services are launched and perfected (or abandoned) in-house before being introduced to outside clients. At the same time, outreach efforts contribute to resources available for new initiatives.
"Some of our outreach success and profitability allows us to have the assets available to support new in-house initiatives," Klein says, citing adequate numbers of staff and their expertise as some of the most significant resources. Contract adjustments are also beneficial. For instance, IHDM is awarded vendor tuition credits when certain outreach customers purchase equipment.
Clients also benefit and partnerships are always tailored to the specific needs of the customer to maximize value. IHDM can handle tasks ranging from planning and administration—including capital acquisitions—to service and maintenance. "Smaller clinics tend to struggle financially, and we are able to assist them with technician services, such as safety testing and imaging equipment repair," Willey says.
IHDM can offer its capabilities at competitive rates because of the team's organizational structure, expertise, and availability. Service may require travel, but technicians are often much closer and much freer to respond to immediate needs in the area than manufacturer representatives. "So rather than hire their own biomeds and find their own resources, customers can use our capacity to meet their needs," Doherty says.
Equipment Extensions
This is particularly beneficial when it comes to caring for the older equipment many of the smaller health care facilities utilize. "The budget constraints of rural affiliates means they keep their equipment longer, even in imaging, and we can help them extend a device's life beyond a manufacturer's availability, finding parts through third parties," says Jerry Chance, supervisor of IHDM's bio-tech imaging department.
And like most experts in medicine, the group sometimes finds itself being asked for a second opinion. Willey recalls a recent situation where a client—a small clinic with a very tight budget—had been told it would need to replace a device at a cost of $40,000. "They'd been told the problem couldn't be fixed, but we were able to repair it," Willey says.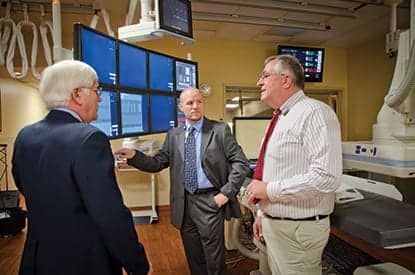 L-R: Richard Heck, MS, BME, EE, Greg Doherty, manager of bio-tech, and Jerry Chance discuss image quality concerns and options for repair resolution.
The successful outcome is one of many and an example of the sort of stories that have led to the department's sterling reputation and ability to rely on word-of-mouth marketing. An associated sales department was abandoned some 15 years ago.
This year, however, Iowa Health is planning a more aggressive marketing approach, perhaps a reflection of industry trends and growing competition. "We do have a little more in the budget for marketing and plan to focus on offering cost-effective solutions to providers, particularly those in rural and suburban areas," Doherty says. These can include hospitals and clinics as well as fire departments, ambulance services, and veterinary facilities.
Future Fundamentals
The department has been able to expand its services over the years by keeping its eye on the business evolving in the background. "We've done due diligence before adding any new service line, looking at the return on investment," Klein says. Factors evaluated include training costs (if any), the equipment base within the service area, and expense offset reflected by in-house benefits.
"We partner with our administrative team on the business component to utilize their expertise," Klein says. Information on clients is managed within the department's general database as a separate category. "We produce a lot of individual reports looking at repair hours," Klein says.
Partnering is not a new approach, but it is a growing trend. Departments are partnering with departments, hospitals are partnering with smaller or specialized providers, and customers are partnering with vendors. Teams may be asked to play multiple roles: consultant and provider, in-house supporter and patient/client advocate, and client and vendor.
Larger institutions, such as Iowa Health System, have been pioneers of efforts that more institutions are finding make good sense for patient care and business. "As the cost of health care becomes a primary driving force for hospitals, everybody is looking for ways to reduce their costs," Heck says.
Members of the department sit on the advisory committees of educational institutions, and the department hosts students as interns.
"I think it is a trend for [biomedical] departments to try to generate a revenue stream based simply on community good will and associations with similar facilities, but whether it will become a new norm within the industry or reserved for larger institutions is unclear," Klein notes.
Successful efforts can reduce expenses for health care systems, smaller providers, and vendors while improving quality and the ability to care for patients. This very important group of clients benefits from advanced equipment uptime, consistent device performance, and immediate service response.
IHDM members of the clinical engineering team cite flexibility and the acceptance of change as key to their ability to adapt and succeed in delivering these services. As other clinical/biomedical departments look to outreach as possible revenue streams, these strategies can be their keys to success as well. 24×7 January 2013 cover story. Renee Diiulio is a contributing writer for 24×7. For more information, contact [email protected].
Recruitment Success
Benevolence pays off in many ways. Just as the accomplishments shown by the business outreach efforts of the bio-tech department of Iowa Health Des Moines (IHDM) reflect its positive efforts toward community service, its achievements in recruitment may also be a result of good will turned to good business.
One of the competitive advantages IHDM offers clients is the expertise and customer service skills of the 29 members of its clinical engineering team. "The average length of tenure is 18 years," says Richard Heck, MS, BME, EE, a biomedical engineer at IHDM.
Turnover is low due to a positive work environment that incorporates technician autonomy and accountability as well as teamwork and administrative support. "We've developed unique relationships with clinical staff through everyday communication," says Jacob Depauw, bio-tech specialist. "We walk the floors daily to monitor workload and determine what equipment needs they may have, before they have to begin looking on their own."
A low turnover means low recruitment, but in today's health care systems—where the term "restricted resources" applies to people as often as finances—even a small need to hire can pose a big challenge. However, it is one that IHDM has avoided through association with local technical colleges.
Members of the department sit on the advisory committees of educational institutions to help direct the course of the educational offerings, work with instructors to keep curricula fresh, provide education for smaller programs, and incorporate exposure to cutting-edge systems, according to Brad Garrett, CBET, supervisor of IHDM bio-tech.
Technicians will go out and speak with students, encourage them to consider the program, and during the students' last semesters the department will host them as interns.
"We allow them to switch areas every week—working in areas such as linear accelerators, radiology, and outreach—so they can experience the different devices and learn what it's like to work with a vendor versus an in-house team," Heck says.
In this way, the IHDM bio-tech team helps the biomedical industry at large and biomedical students on an individual basis, but it also opens opportunities to find and recruit superior personnel.
Similarly, the department has also drawn a few vendor technicians to the in-house world. Randy Willey, an IMDH bio-tech imaging specialist who previously worked for a manufacturer, can attest to the burnout experienced by field service representatives. "Many of us moved in-house because, even though there is a certain amount of flexibility permitted, there is a very distinct schedule predictability, which makes it nice for those of us with family," Willey says.
The administration offers support in the form of operating budget and training opportunities, as well as individual growth and development, and its philosophies have been mirrored within individual departments with great success. The unforeseen reward has been a loyal team that regularly garners high praise, receives positive recommendations, and helps the bottom line.
—RD