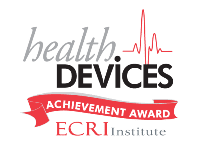 ECRI Institute has extended the submission deadline for its Health Devices Achievement Award, presented annually to an ECRI member institution demonstrating an initiative that improves patient safety, reduces costs, or otherwise facilitates better strategic management of health technology. The new deadline is July 1, 2015; entries were previously due by June 1, 2015.
According to the contest rules, entries must be submitted by representatives of facilities belonging to one of the following ECRI membership categories: Health Devices System, HDGold, or Selectplus. Application essays should be 1,500 to 2,000 words in length and include a description of the initiative, the motivation behind it, the methodology used, and impacts on outcomes and cost savings as applicable.
Initiatives may pertain to any area of health technology management, including patient safety, technology selection and service, resource allocation, hazard and recall management, staff training, and accreditation. Submissions will be evaluated on the basis of their completeness, clarity, impact, safety, cost, performance improvement, improved delivery of care, and extensibility to other institutions. The winner will receive an award for display with formal onsite presentation by ECRI, and press and promotion on ECRI's website. Last year's winner was Christiana Care Health System.
For more information on contest rules and how to submit an entry, visit the Health Devices award page on ECRI's website.