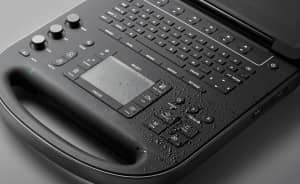 Fujifilm SonoSite Inc, a developer of ultrasound solutions and education to enable point-of-care visualization access, announced that it has received the CE mark and 510(k) clearance for its new portable ultrasound system, the SonoSite Edge II.
Designed with emergency medicine and critical care applications in mind, the Edge II has advanced transducer technology to provide improved imaging for rugged environments. According to Fujifilm, the Edge II ultrasound system incorporates SonoSite's durability, reliability, and ease of use, as well as enhancements intended to accelerate the time to image acquisition, enabling clinicians to make more confident decisions.
The Edge II also offers DirectClear technology, a process available on select transducers. DirectClear is designed to elevate transducer performance by increasing penetration and contrast resolution. Along with a new wide-angle display that offers a 33% increase in viewing angles, the new transducer contributes to an improved imaging experience at the bedside.
Designed to be portable, the Edge II has armored cable technology, which includes an embedded metal jacket and armored cables that protect transducers from common abuse or accident scenarios, such as being rolled over, stepped on, or twisted, and help maintain image quality over the life of transducers built on this cable platform. The Edge II's optimized design is said to enhance infection control management and improve efficient use of common controls such as gain.
For more information about the SonoSite Edge II, visit the SonoSite website.