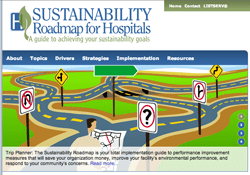 To help health care facilities reduce their environmental footprints, the American Hospital Association (AHA) has unveiled a redesigned website aimed at reducing energy use, waste, and costs. Called The Sustainability Roadmap, the site provides free tools to show hospitals how to implement real-world sustainability projects, enhance existing efforts, and share their environmental successes with other facilities. First launched in 2010, the site evidently failed to catch fire in its earlier form.
This expanded site results from a collaboration among three AHA personal membership groups–the American Society for Healthcare Engineering, the Association for the Healthcare Environment, and the Association for Healthcare Resource & Materials Management.
In addition to how-to guides and other resources, the Sustainability Roadmap website helps users share resources and tools, letting others know what's working and what isn't. Users can also contribute suggestions, sample documents, and case studies to add to the library of practical information available.