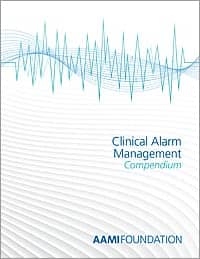 To help healthcare organizations meet The Joint Commission's National Patient Safety Goal on clinical alarms, the AAMI Foundation has released a toolkit, the Clinical Alarm Management Compendium, offering knowledge, experience, and advice from leading practitioners.
As of January 1, 2016, The Joint Commission will expect hospitals to have established and implemented policies and procedures for managing clinical alarms. Any organization found to be noncompliant will have to submit a plan for corrective actions. Noncompliance will also be posted on the Quality Check website, which provides detailed information about an organization's performance and accreditation.
To assist organizations in developing the necessary policies and procedures for safe alarm management, the compendium provides specific tips and outlines practices already being used by leading institutions. These suggestions include issuing a call to action, championed by executive leadership, which recognizes the challenges, risks, and opportunities of alarm management, and committing to solving them; bringing together a multidisciplinary team to spearhead action and build consensus; gathering data and intelligence to identify challenges and opportunities; prioritizing the patient safety vulnerabilities and risks to target with alarm management improvements; setting and sharing goals, objectives, and activities to address these vulnerabilities and risks; developing and piloting potential solutions; evaluating the effectiveness of improvements and making adjustments as needed; developing policies and procedures; educating staff to build and maintain competencies, and scaling up and sustaining by creating ownership at the unit level and with continuous improvement.
In addition to outlining ways to implement these ideas, the compendium provides a set of default alarm parameters intended for use in benchmarking alarm system settings. These parameters were developed from information reported in a survey conducted by the AAMI Foundation, and they represent responses from 17 of the 25 hospitals and healthcare system members of the National Coalition for Alarm Management Safety.
For more information about the best practices and initiatives of hospitals featured in the compendium, visit the AAMI Foundation's clinical alarms web page.