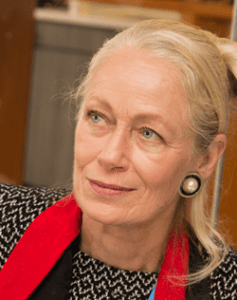 The AAMI Foundation has turned to an experienced executive leader and fundraiser with strong international ties to help advance its mission of reducing preventable patient harm and improving outcomes associated with the use of health technology. Christine V. Emery, PhD, who previously served as the vice president of development for the Woodrow Wilson International Center for Scholars in Washington, DC, will join the Foundation in mid-May as its new executive director.
"I am really excited to join the AAMI staff and community in shaping future initiatives that will have a deep and lasting impact on the well-being of people everywhere," Emery says. "I find myself becoming more and more passionate about this mission with every passing day, and I'm looking forward to being able to transmit this passion to others to get them engaged."
AAMI President and CEO Robert Jensen praised Emery's experience in fundraising for mission-related causes and her strategic vision and insight.
"I believe Christine is the exact right person at the exact right time," Jensen says. "The AAMI Foundation is well-positioned to become a true value-added partner to AAMI in the safe and effective use of health technology. Christine's fundraising and executive experience, extraordinary ability to develop and nourish relationships, and blend of professionalism and authenticity will elevate the Foundation and its benefits to the next level."
Emery, who was born in Laos to a U.S. Foreign Service officer, has operated at the crossroads of international affairs, U.S. foreign policy, and organizational development throughout her career. Her appointment to the AAMI Foundation marks her first foray into the healthcare arena—a change she is excited about making.
"I was looking for a new challenge and wanted to get into a field where I could disrupt the status quo of the current aging experience to contribute to a healthier experience for everyone," Emery says. "Healthcare seemed like the industry that was most ripe for change in this area, not just in the United States but also around the world."
Having lived and studied in five countries by the age of 18, and being able to communicate confidently in English, Spanish, and French, Emery intends to bring a "global perspective" to the AAMI Foundation and share its "wonderful assets" with the rest of the world.
Moreover, Emery has been active in the nonprofit sector, most recently spending three years at the Woodrow Wilson International Center for Scholars where she worked with high-net-worth individuals from around the world and developed an innovative fundraising plan to grow the center's unrestricted revenue. Prior to that, she served as assistant vice president and senior executive director for development at the George Washington University—the school where she earned her master's degree in international affairs and doctorate in political science.
A self-described "insatiably curious person," Emery said she is "hungry" to learn more about healthcare technology and eager "to meet the people who have been working in the trenches."
"To build on the Foundation's first 50 years, I need to understand what their concerns are and what they have been working on," Emery says. "My top priority will be to achieve the goals and vision outlined in AAMI's strategic plan. I really look forward to contributing to all that has been accomplished and leading the Foundation into an even more successful second half century."