When choosing a career path, a person takes numerous factors into account: personal interests, salary, daily and weekly hours, and upward mobility, among others. If any one of those core features clashes with your personal beliefs or desires, it can change your whole perspective on the industry and make you go in a different direction. As a student, Paul Kelley, CBET, director of biomedical engineering and green initiative at Washington Hospital Healthcare System in Fremont, Calif, wanted nothing more than to go to medical school to become a doctor. But suddenly, his whole perspective changed.
"One day, I decided I didn't want to be a doctor, went to a career planning class, and the guy told me about the biomed field," Kelley says. "My question to him at the time was, 'Do you mean with pocket protectors and tape on the glasses?' I checked into it and transferred to Napa Community College. I fell in love with it and never turned back."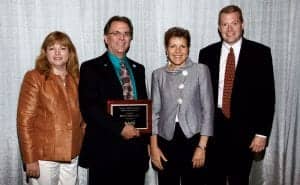 L-R: Susan Nedza, AAMI keynote speaker; Paul Kelley, CBET, with his award; Mary Logan, president, AAMI; and Michael Reed, general manager of education services, GE Healthcare.
Kelley insists that he continued to get good grades but simply had a change of heart. What was the catalyst for the change?
"I woke up one day and realized—and this is going to sound ridiculous—that I didn't want to be on call 24/7 and didn't want to be in school the rest of my life," he says. "What's happened? I'm on call 24/7 and learning the rest of my life."
After receiving the honor of the AAMI/GE Healthcare BMET of the Year Award at the recent Association for the Advancement of Medical Instrumentation (AAMI) 2011 Annual Conference and Expo for his contributions to biomedical societies and helping to identify clinical engineering's role in solving hospitalwide problems, it is safe to say the grueling hours that the job demands are no longer a major concern.
GIVING BACK
Kelley, who also received the California Medical Instrumentation Association (CMIA) Welch Allyn Professional of the Year Award in January 2010, and was named a CMIA Lifetime Member in 2002, has dedicated much of his career to giving back to the biomed community. From founding the Bay Area chapter of the CMIA to working with local community colleges in an effort to establish biomed/clinical engineer programs, Kelley's efforts have not gone unnoticed.
"Over the years, he has continuously extended his efforts to help his profession and his associates to achieve greater success," says Marvin Shepherd, PE, FACCE, who spent 48 years in the clinical engineering profession and worked as a safety consultant. "He has the drive and a vision he follows to achieve the success for himself, his hospital, and his associates. Most of us believe that we are successful if we simply complete what we have on our work plate. Paul keeps increasing the size of his plate."
"It is noteworthy that his contributions are not limited to traditional 'clinical engineering,' but include contributions that reflect his expertise, talents, and personal abilities in addition to skills honed by his technical experience and the contributions of his clinical engineering group," says Emanuel (Manny) Furst, PhD, CCE, president, Improvement Technologies LLC, Tucson, Ariz, and technical project manager, IHE Patient Care Device Domain. "Paul struck me immediately as one of those people you instantly respect and also recognize as an up-and-coming leader in the profession."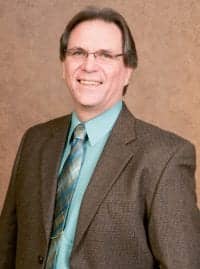 Paul Kelley, CBET
Kelley jokes that if he were to take on more responsibilities in the field, it would also come with a divorce. Jokes aside, you can understand why he might say something like that; a review of his accomplishments, responsibilities, and appointments reads like a list of three or four different people's achievements.
"I started the Bay Area chapter of the CMIA and helped start the Capitol Chapter," Kelley says. "I was chairman of the state board twice and helped them rewrite their constitution. I'm now a lifetime member, which is their only honor other than the professional of the year, which I started. Now I'm on their board advisory group to help with continuity. I also act as secretariat for them, which is the keeper of documents.
"With AAMI, I got on a standards committee back in the '80s. I've been working on that standard, and I'm now cochairman of that standard. I am one of the charter members of the Technology Management Council, and now I'm on the Technology Management Council executive committee. I'm on the AAMI board of directors, and I'm the AAMI representative and first biomed/clinical engineer on The Joint Commission patient safety advisory group."
His most notable work, however, revolves around his creation of the Bay Area chapter of the CMIA and ongoing support of the statewide association. After graduating from college, Kelley relocated to the Los Angeles area to work at the University of California Los Angeles Medical Center. After moving back to the San Francisco area 4 years later, Kelley was disappointed with the lack of interactivity among local biomeds, brought on by the absence of a biomed association.
"I was frustrated that I didn't know the other biomeds in the area," he says. "There was a hospital about 2 miles away, and I didn't even know who was there. I felt [forming the chapter] was a good way to network and get to know the other people."
"In the 1980s, the CMIA was faltering badly," Shepherd says. "It was not as well supported as now, but Paul thought that it was worth his effort. So, he put on several administrative hats of that organization and held it together with spit and determination for over 3 years."
A HUMBLE WINNER
Despite holding a qualified resume and glowing recommendations, Kelley was still humbled by his selection as AAMI/GE Healthcare BMET of the Year. He knew that he had been nominated—one of the benefits of winning the CMIA Welch Allyn Professional of the Year Award is automatic nomination for the AAMI award—but still never expected that he would win the title.
In years past, Kelley served on the committee that selected the winner of the award, so he knows both the selection process and the applications that the committee receives, which consist of binders of information containing resumes, articles, and testimonials.
"I'm still somewhat in disbelief because I don't do anything specifically for the award," he says. "I do things because I really enjoy what I'm doing. It's not something I was ever striving to achieve. It really humbles me. I have so much respect for the four people that nominated me that I'm still speechless."
CONTINUED SERVICE
Even after having earned such a prestigious award, Kelley strives to improve and advance the field. He is currently working with a local community college in an effort to start a biomedical/clinical engineering program, the fourth such initiative he has undertaken—the previous three fell short because of budget cuts. He is also currently collaborating with AAMI to establish a curriculum for such programs in an effort to streamline and standardize the education.
Read past Focus On articles in our online archives.
It seems unlikely that Kelley's contributions will end there. Not only does he have years of experience and knowledge under his belt, he also has insight into where the profession is headed—by his estimation, biomeds and their departments need to start working closer with and educating themselves on emerging IT strategies and technologies.
Between all these plans, peer-reviewed and bylined articles, involvement with AAMI, and his ongoing contributions to local and regional biomedical associations, Kelley will remain an important member of the biomedical and clinical engineering communities for years to come.
---
Chris Gaerig is the associate editor of 24×7. Contact him at .