Multi-Product Calibrator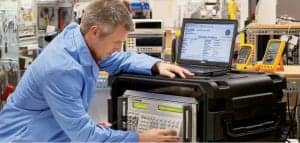 Fluke Calibration,Everett, Wash, offers its next generation of multi-product calibrators based on the Fluke 5520A series calibrator. The latest 5522A multi-product calibrator is durable enough to be safely transported for on-site or mobile calibration of a wide variety of electronic test tools. Internal circuits and fuses protect against damage caused by applying too much voltage or current. The 5522A provides reverse power protection, immediate output disconnection, and/or fuse protection on the output terminals for all functions. It sources direct voltage and current; alternating voltage and current with multiple waveforms and harmonics; two simultaneous voltage outputs; or voltage and current to simulate DC and AC power with phase control, resistance, capacitance, thermocouples, and RTDs. A carrying case accessory features built-in handles and wheel, enabling the user to move the calibrator easily and safely.
(877) 355-3225
www.fluke.com
---
4D Transducer Repair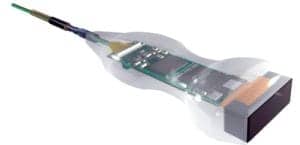 MedPro Imaging, Waukesha, Wis, has added 4D transducer repair capabilities to its services, featuring proprietary computer-based technology and processes. MedPro performs 4D probe repair services at its dedicated ultrasound transducer repair facility in Longmont, Colo. The company recently achieved certification from the International Organization for Standardization (ISO), meeting the requirements of the ISO 13485:2003 standard. ISO certification allows MedPro to provide probe-repair services to all customer categories, including multivendor service providers and independent service organizations, as well as hospitals and imaging centers that demand probe repair in lieu of replacing them.
(877) 846-8818
www.medproimaging.com
---
Electrical Medical Safety Analyzer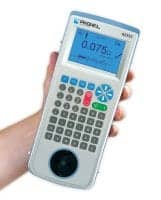 Rigel Medical,, Peterlee, England, offers the handheld Rigel 62353 electrical medical safety analyzer. The device, a dedicated IEC 62353 safety analyzer, offers automatic sequencing, onboard data storage, and data entry in a lightweight enclosure. The Rigel 62353 can store up to 10,000 test records, customized routines, visual inspections, and performance tests, which can be downloaded to and from a PC. Features include an easy-to-use facility for testing up to two individual applied parts—from different modules or classes (BF and CF class, and either fully automatic, semiautomatic, or manual testing); and a full graphic LCD display with an integral alpha-numeric ABCD keyboard. Connected to Rigel's MedeBase PC database software, the analyzer can provide enhanced electronic recording and management of testing programs. Custom test routines can be created for testing specific medical devices before being uploaded to the analyzer. The device also meets all the requirements of IEC 62353.
(813) 886-2775
www.rigelmedical.com
---
RTLS for RFID and Bar Code Labels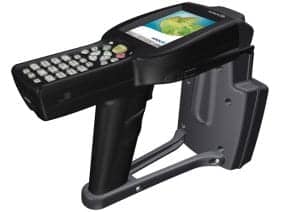 Ekahau Inc, Reston, Va, in conjunction with Nordic ID, Salo, Finland, has a solution for adding location information to passive RFID and bar code labels, as well as managing, storing, and viewing assets and their respective location history in the same database. The combined Ekahau-Nordic ID solution consists of Ekahau RTLS software and Nordic ID Merlin and Morphic mobile computers (handheld RFID and bar code scanners). The solution can track low-cost assets like surgical implements and other inventory. The location and asset information can then be viewed and managed with the Ekahau Vision business logic and analytics software, which enables users to see asset locations on a real-time map, generate asset reports and audit trails, and alert users if any items have low inventory or are in the wrong location.
(866) 435-2428
www.ekahau.com