By A.J. Zak
Carlos Villafañe, CBET, CET, found his way to the biomedical field via electronics. Villafañe, 43, grew up in Puerto Rico and lived there for 30 years, starting his career as an electronics technician at age 16, repairing car radios. But he soon observed something about his chosen career path that wasn't exactly reassuring: "I started noticing that consumer electronics were becoming disposable," he says. "I noticed that it was easier to go to Wal-Mart and buy something new than take something for repair."
He didn't want a future that might be endangered. So he decided to go back to school at the Technical Institute of Puerto Rico, where he had already earned an associate's degree in electronics engineering, to get another degree in biomedical engineering technology. Villafañe clearly made the right choice: Not long after he shifted his career path, the company he had been working for in Puerto Rico—Panasonic—closed its operations there. Now, Villafañe has worked his way up the health care technology management ladder to become the 2016 recipient of the Association for the Advancement of Medical Instrumentation's (AAMI's) and GE Healthcare's Biomedical Equipment Technician of the Year award.
Becoming a Biomed
Villafañe moved from Puerto Rico to Florida, initially for a job with GE, in 2003. While he spent five years at GE, he also earned a bachelor's degree in technical management from DeVry University. Then, he took a job as a biomedical equipment technician at St. Joseph's Hospital in Tampa Bay, Fla, and he's worked for BayCare Health System—the umbrella system for St. Joseph's and other hospitals—ever since. He lives in Florida with his wife of 19 years, while his parents, sister, and the rest of his family are still back in Puerto Rico.
The shift into the biomedical field has been a natural transition for him, even though the day-to-day work is much more varied. "When I worked in electronics before, it was really repetitive. Just go to work, repair stuff in front of my bench, and then go home," Villafañe says. "In biomed, the environment is completely different. You're meeting all kinds of people: doctors, nurses—even patients, sometimes. The variety of equipment you work with is incredible."
His focus is on equipment in the surgery department, with work on other equipment as well. But Villafañe's career extends far outside of his full-time job. The traits that propelled him to success—and nationwide recognition via the AAMI award—include his involvement as an advocate for the industry, his role as a mentor for students, and his numerous published works.
Publishing articles predates Villafañe's biomedical career, however. While living in Puerto Rico, he served as a writer for a Spanish-language Mexican electronics magazine—a position that enabled him to share his expertise with others in the electronics sector. But when he crossed over into the biomedical industry, he noticed that there were no publications in Spanish about the biomed field in Puerto Rico. "I thought, for years, 'I should write something in Spanish, just to let people know about my field,'" he says. "I had a file on my computer with a lot of ideas. One day, I put it together, and it was a book."
Since working for that Mexican magazine, the urge to share his knowledge with others has been a constant. With the book, he wanted to write something that was less theoretical and more of a practical guide about the inns and the outs of the biomedical industry.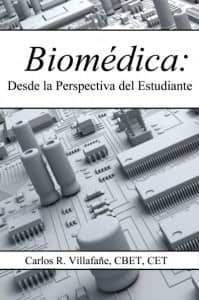 Villafañe self-published the book, Biomed: Desde la Perspectiva del Estudiante, in Spanish. Then, he started receiving orders from South America and Spain. Six months later, after fielding questions at an industry meeting about whether the book was available in English, he translated it to Biomed: From the Student's Perspective. Many of the people who ask about or order the book are considering changing career fields, he says. "I think it's helped people trying to find out what they're going to do," Villafañe says.
He served as the president of the Florida Biomedical Society (FBS) in 2015, and has held the title of president of the Bay Area Association of Medical Instrumentation—a local chapter of FBS—since 2012. That's how he made a lot of his connections in the industry and how he promoted the field, Villafañe says.
A big piece of his involvement has been getting the word out about what it really means to be a biomedical equipment technician. For many years, the sector was misunderstood, he says, with people associating the word "biomedical" with biomedical waste. Fortunately, that misconception has changed because of people, like Villafañe, who have been passionate about advocating for the profession. After all, he says, "The only way that people will understand what we do is if we tell them how important our job is."
Passion, it seems, is something that has marked Villafañe's entire life. "I think there's a lot of stuff that happened to me with time that I wasn't looking for," he says. "But when I had the opportunity and the opportunity arrived, I grabbed it by the horns and did it."
Outside of work, Villafañe repairs and modifies electric guitars—but his favorite pastime is traveling with his family, he says. Over the past 10 years, he's visited India, Costa Rica, Peru, and the United Arab Emirates, he says, citing his love of different cultures and foods.
Promoting the Profession
Passing on knowledge about the field to the potential up-and-coming workforce is another passion of Villafañe's—and one he engages in as an adjunct professor of engineering technology at St. Petersburg College in Pinellas County, Fla. Villafañe also holds A+ and Network+ IT certifications, he reveals.
Even before IT knowledge became an increasingly essential skill in the biomed industry, Villafane showed a knack for it. He started learning about and repairing computers in his own time in the '90s, and in 2004 he passed the A+ exam without ever having taken a computer repair class in his life. Now, those skills are second nature. "In the case of any computer-related problem that has something to do with biomed, I can fix it," he says. "Even before I started noticing how important computers are in the field, I was repairing them," Villafane adds.
He encourages other biomeds to share his interest. Given today's increasingly tech-driven health care environment, he says it's imperative that biomeds have at least a basic understanding of how computers work. It's a stance reflected by last year's 24×7 salary survey, which highlighted the growing importance of IT in medical device sector. "It's been morphing," Villafane says. "Years ago, we used to take care of our devices, and the IT people would do their jobs over there. But we're interlaced now."
Whether someone is new to the field or has been working as a biomed for years, Villafañe suggests that the best way to get a jump on IT skills is to learn by doing. He applied the same philosophy to learning English, he says. Although Villafañe took English classes throughout his childhood and adolescence in Puerto Rico, he says they focused more on grammar than on actual conversations. As a result, Villafañe says he still thinks in Spanish.
English not being his native language hasn't affected his job performance, however. "In the actual world, there's challenges where you're learning something new, and don't have time to practice what you're learning," Villafañe says. "For me, it's a learning process that never ends when you're in this field."
**Outside the Biomed Shop**
Favorite hobby: Traveling the world
Favorite book: Steven Hassan's Releasing the Bonds
Favorite musicians: Yngwie Malmsteen, Michael Romeo, Tony McAlpine.
Fun fact: Villafañe married his best friend. "My wife and I have known each other since we were kids," he says. "We grew up together."
Dream vacation spot: The Peruvian Amazon and Macchu Picchu—locations he has already visited. "These places that should be on everyone's bucket lists," Villafañe says.