A patient-first approach to HTM
Situated in Silicon Valley, Fremont, Calif.-based Washington Hospital Healthcare System is known for its commitment to patient care. And a key part of fulfilling this commitment is due to the hospital's biomedical engineering program, led by Paul Kelley, CBET, AAMIF. Below, Kelly discusses his team's strategic approach to recruitment and how the COVID-19 pandemic highlighted the department's importance.
24×7 Magazine: Can you please tell us a little bit about Washington Hospital Healthcare System's HTM department and the equipment you maintain?
Paul Kelley: About 23 years ago, we brought our department in-house; previously, it was contracted out. In the beginning, there were two of us. Now, we have four technicians, one senior lead technician, and a director. All our staff members are certified biomedical equipment technicians (CBETs), making us one of the few departments in the country with a 100% certified staff. Of this team of six, four members have been in the field for more than 20 years and one has 40 years' experience. And two of our team members are military-trained BMETs.
Our core service is repairing and maintaining our hospital's general medical equipment. We also service dialysis machines and ventilators, although we don't handle imaging or laboratory equipment at this time. Even so, we manage most of the contracts for items that we do not directly service ourselves, as well as the vender-related equipment services and documentation.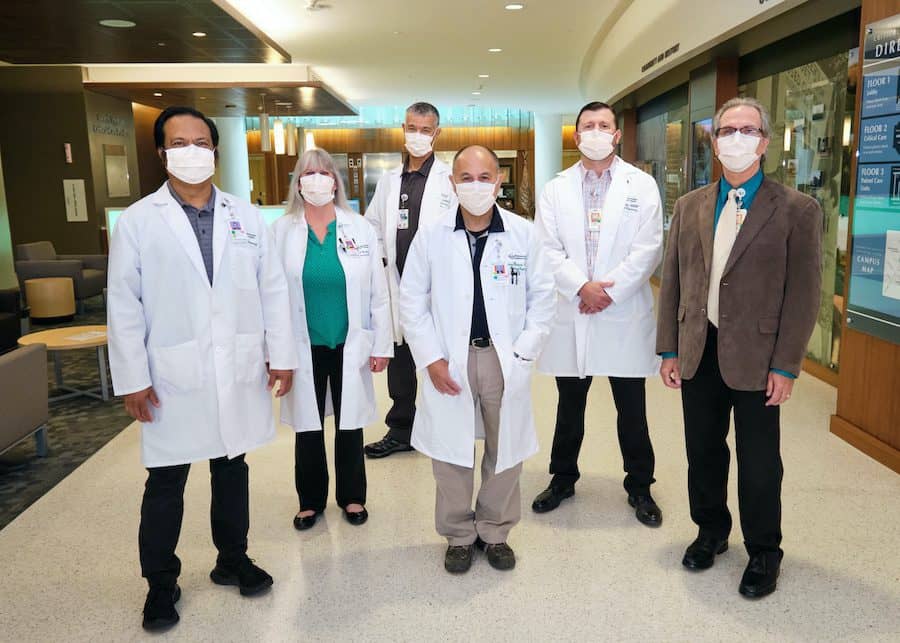 Project management is our second core responsibility, especially when it comes to upgrading existing equipment or onboarding new technologies. We often own the budgets for these projects and work closely with our teammates in the information services department. Finally, our team covers equipment seven days per week and performs after-hours service calls on a callback basis.
24×7: What are some of the top challenges your team regularly faces?
Kelley: Managing time, resources, and priorities since they are constantly changing. With our small staff of dedicated technicians, it's easy for us to get hung up on finding a solution. Often, our techs are so determined to resolve an issue that they don't want to let it go, even though they have other issues or projects to handle.
The techs rotate who carries the phone for service calls during the day—which means the chosen person has a busy day. But it isn't quite that compartmentalized; even when their day is planned, a tech may be called to assist with an equipment or system problem, or a new priority.
We are a very busy department, and we push to keep detailed records for not only legal and compliance reasons, but also for quick access to issues. Unfortunately, it's often very difficult to get proper paperwork from vendor repairs.
24×7: It's well known that the HTM field is rapidly greying. From a recruitment perspective, what steps is your team at Washington Hospital Healthcare System taking to fill the bench with top talent?
Kelley: This isn't a problem yet, although it will be in the future. As I mentioned before, several of our team members are approaching retirement. But, so far, our staff turnover has been very low. We hire as a team, carefully vetting candidates and choosing them wisely.
One important thing that we continue to do is offer our staff training. In addition to sending staff members to service schools, our hospital provides days for them to pursue further education.
We also encourage them to be involved in organizations related to our field such as AAMI and the California Medical Instrumentation Association—and many of them are. After all, what and who you know goes a long way in securing and keeping the right talent pool. Actively supporting industry associations—by leading, speaking, and writing articles—helps prospects get to know us and want to join our team. On the downside: We're located in Silicon Valley, where housing costs are rather high. But on the upside, this is a great place to work.
24×7: Can you please discuss a time when your team "saved the day" for another department?
Kelley: During the pandemic, we all did our part to "save the day" by making sure all the clinical staff and patients had the medical equipment and PPE they needed to fight this battle. Specifically, the hospital turned to us to maintain their controlled air purifying respirators, or CAPRs. Previously, the manufacturer handled these device and they weren't a rush item. But because of their constant usage during the height of the pandemic, they became a critical item. So, our team stepped up big time. We figured out how to return many CAPRs to service, how to make long-term improvements, and how to reduce repair time.
Our hospital was also setting up COVID units at that time, moving and shuffling staff, patients, and equipment at a moment's notice. Our team responded quickly, moving devices between patient rooms, as well as installing monitors in occupied COVID rooms. Washington Hospital's motto is "patient-first," and our team lived that out.
Another example of our determination and desire to live the patient-first ethic involved operating room equipment. We own two of a certain type of OR device. The first one failed and the manufacturer no longer supported it, so our hospital decided to retire it. But when the second device failed and the vendor wanted to charge $20,000 to replace each device, one of our techs got to work.
Although the manufacturer chose to not make repair information available, the tech learned how to open the device. He then tightened a setscrew, thus saving the device. He actually saved both devices, since they failed due to the same issue. This made the OR staff and administration very happy.
24×7: Anything else you want 24×7 Magazine readers to know about your department at Washington Hospital Healthcare System?
Kelley: Our team is truly like a family. Like any family, we have little squabbles and differences in opinions, but we all know that our focus is on keeping equipment functional and safe. Most of us get our healthcare at Washington Hospital, too, which is something we always keep in mind.
Even so, we're very frustrated at not being able to repair all the devices we own. That's why we're advocating for our "Right to Repair"—to support the patient-first ethic of the hospital, to provide quick and efficient repairs, and to reduce healthcare's skyrocketing costs.