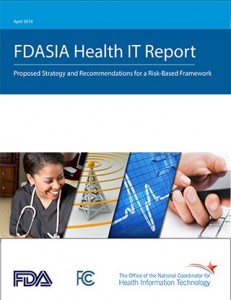 A 34-page report released on April 3 by the Department of Health & Human Services proposes a regulatory strategy for health information technology that "promotes product innovation while maintaining appropriate patient protections and avoiding regulatory duplication." The strategy would rely on a distinction among three different categories of health IT products.
The report results from a collaborative effort by the FDA, the Office of the National Coordinator for Health IT (ONC), and the Federal Communications Commission (FCC).  It says that one category, products with "administrative health IT functions" poses little risk to patient safety and does not require regulation. A second category, products that manage health information and data, will in most cases not require FDA's oversight, even "if they meet the statutory definition of a medical device."
The report states that a third category, "products with medical device health IT functions," could pose risks to patients if they do not perform as intended. Examples include of this category includes computer-aided detection software, software for bedside monitor alarms, and radiation treatment software. The report argues that FDA should continue to regulate such products.
The agencies will be seeking public comment on the report's recommendations, and will announce dates for a 3-day public meeting to discuss the report.  The report may be downloaded from the FDA website.