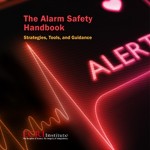 A new publication from the ECRI Institute, The Alarm Safety Handbook: Strategies, Tools, and Guidance, is intended to help boost hospitals' efforts to meet the Joint Commission's 2014 National Patient Safety Goal on clinical alarm safety.
Available in print and electronic formats, the handbook includes 76 pages of charts, statistics, and other guidance. An accompanying workbook offers tools designed to help hospitals identify safety vulnerabilities and develop alarm management strategies. Examples include a care area assessment checklist, a nursing staff survey, and an alarm review tool.
"Hospitals now have access to information that they can use to take action to minimize alarm hazards each step of the way," ECRI Institute VP James Keller, Jr, said in a press release. "We hope hospitals look to this as a blueprint for building a sound alarm management safety process."
The handbook may be ordered from the ECRI Institute website for $350. Membership discounts are available.