BC Group International, St. Peters, has introduced its latest BC Biomedical product. "The new FSX-1101 Pulse Oximetry Simulator is the only SPO2 Simulator with a lifetime warranty*," says Vice President Sales and Marketing for BC Group Ken O'Day. This advanced pulse oximeter simulator sells for $1,495.
The FSX-1101 is a digital SPO2 simulator with many features. It is designed to be small and lightweight, yet powerful. It has a bright, 2.4-inch color touchscreen that, coupled with an intuitive menu structure, allows easy access and viewing of all setup and function parameters. To make testing an SPO2 monitor easier and faster, the FSX-1101 has a set of factory presets.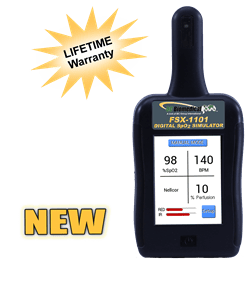 For a more specific evaluation, the manual mode allows individual control over each parameter only limited by the specific values that are available. SPO2 (in %) is selectable from six values with 2% accuracy.
Heart Rate (in BPM) is selectable from 10 values with 1% accuracy. Three Perfusion Index values are also available. The FSX-1101 can be connected to a BC Biomedical NIBP-1000 Series, PS-2100 Series, or PS-2200 Series Patient Simulator via the auxiliary port (by using the provided cable). This allows for a synchronized SPO2 and ECG simulation for monitors.
The FSX-1101 can be powered by its two internal AA batteries or using the provided cable from the auxiliary port on your BC Biomedical Patient Simulators, any USB port, or the provided universal AC adapter. In battery powered operation, the battery life is 10 hours of full operation with full backlight intensity.
For further information, visit the BC Group website.
* Lifetime limited warranty requires product registration and return to factory for annual calibration.