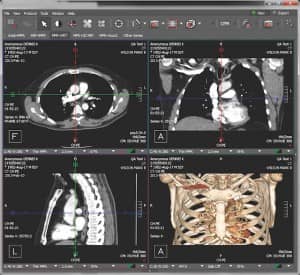 Nine U.S. healthcare organizations have recently chosen solutions from Nuance Communications Inc., Burlington, Mass., to replace incumbent radiology solutions to facilitate more effective collaboration and deliver more complete, timely, and higher quality reporting. Nuance's solutions feature image exchange, workflow orchestration, and advanced analytics capabilities that allow physicians to analyze reports and mine data to gain new insights and make decisions more efficiently.
Capital Health, City of Hope, Community Hospital of the Monterey Peninsula, Desert Radiology, LRGHealthcare, Medical University of South Carolina, Northeast Georgia Health System, Orion/Tower Imaging, and Tennova Healthcare are representative organizations that have recently chosen Nuance to replace existing radiology solutions with Nuance's advanced diagnostic solutions, medical imaging exchange capabilities, and clinical analytics to facilitate the transition to value-based care.
Nuance diagnostic solutions empower healthcare providers to collaborate and deliver complete and timely quality data reporting, diagnostic reports, and medical imaging exchange. More than 4,500 healthcare organizations have successfully exchanged over three billion images via the Nuance PowerShare Network, and more than 10,000 facilities are using Nuance's clinical documentation solutions.
"We're proud to offer these organizations the innovative technology solutions needed to meet the ever-changing demands of the new healthcare landscape," says Karen Holzberger, vice president and general manager of Nuance's diagnostic solutions. "Health systems with the most efficient, modern tools available are far better equipped to deliver high quality, personalized patient care. We intend to support these organizations in every way possible by continuing to enhance our core radiology imaging solutions."