Minneapolis-based medical device manufacturer Smiths Medical announces the release of the ECRI evaluation report for CADD-Solis v4 with wireless communication patient-controlled analgesic (PCA) and epidural infusion pump. The report highlights the nonprofit organization's unbiased evaluation ratings, test results, and purchasing recommendations for the CADD-Solis pump.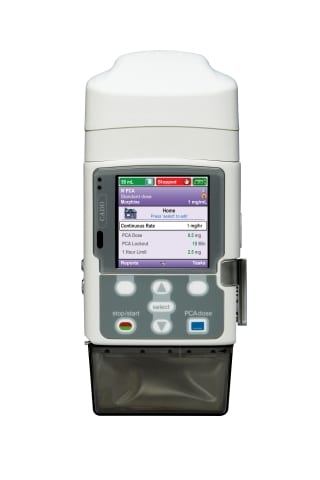 The CADD-Solis v4 system is a continuation of Smiths Medical's commitment to advance patient care and help improve patient outcomes through advanced technologies, company officials say. Moreover, the CADD-Solis pump maintains the advantages of an ambulatory pump for patient mobility and provides a single system that delivers IV PCA, epidural, peripheral nerve blocks, and subcutaneous from pump to patient.
For the hospital, the CADD-Solis system is designed to enhance patient safety through "smart programming" and reduce the risk of tubing misconnections while providing a comprehensive user experience for the healthcare provider.
"Smiths Medical is committed to patient safety and adoption of smart infusion pumps," says Nathan Walker, director of ambulatory infusion at Smiths Medical. "The wireless bi-directional communication sets the foundation for integrating pain management data delivery directly into the patient records in the hospital's electronic health records (EHR auto-documentation), saving clinicians time charting and increasing documentation accuracy."