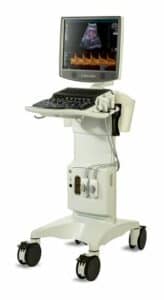 Zonare, a California-based developer of ultrasound technology, announced the company recently installed its 7.0 upgrade for 50% of its ZS3 ultrasound system customer base in North America. The 7.0 upgrade consists of software and hardware enhancements and is covered for free under the 5-year guarantee for ZS3 owners.
According to the company, the ZS3 system 7.0 upgrade includes clearer and more detailed images, and improvements to B-mode, color Doppler, the transducer, and archive review. Several workflow and clinical advances are also available with the upgrade, says Zonare, including the company's ZONE Sonography Technology (ZST).
ZST is an approach to echo data acquisition and image formation. Using a small number of large "zones," ZST acquires ultrasound data significantly faster than conventional ultrasound, and extracts more information on each transmit receive cycle. Since the speed of sound traveling through tissue is a physical constant, ZST was designed with a faster acoustic acquisition time enabling better imaging quality. The company says ZST is a "Living Technology," which delivers ultrasound imaging quality based on a dynamic and open architecture that allows ongoing platform evolvement.
For more information about the 7.0 upgrade to ZS3 ultrasound systems, read the full press release on the Zonare website.