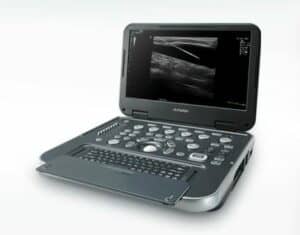 Alpinion Medical Systems has released a new portable ultrasound system, the E-Cube i7, which integrates high-performance hardware and software. The system has a variety of transducers for clinical versatility across a range of applications including point of care applications in anesthesiology, pain management, orthopedic/MSK, and emergency medicine.
According to Alpinion Medical, the E-Cube i7 system also has advanced image optimization technologies to support both routine and specialty application needs, such as Needle Vision Plus, which is intended to make the needle visible without degrading the surrounding tissue image, facilitating quick needle guidance to the target anatomy.
The E-Cube i7 system combines comprehensive capabilities within a compact, user-optimized design. It is said to have a powerful and stable cart-based system architecture that includes a sliding keyboard cover, and has good image performance and comfort for optimal clinical environments. The compact i7 has application-specific imaging technology with advanced transducers to provide ease-of-use and workflow efficiency. Due to its stable architecture, the E-Cube i7 is able to deliver uniform image performance throughout its lifetime.
Crystal Signature, Alpinion's single crystal technology, provides higher sensitivity, better penetration, and less heat degradation than traditional PZT materials. With its single crystal phased array transducers (SP1-5T, SP3-8T), the E-Cube i7 fully supports various diagnoses, including adult echo, pediatric echo, and pediatric abdomen.
For more information about the E-Cube i7 system, visit the Alpinion Medical Systems website.