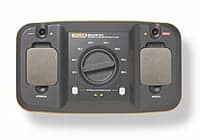 Defibrillator Testing Accessory
The FDA has granted Fluke Biomedical, Everett, Wash, 510(k) clearance for its Impulse 7010 defibrillator selectable load accessory. Capable of testing defibrillators beyond 175 ohms and used in conjunction with the new Impulse 7000DP defibrillator/external pacer analyzer, the device has the capability to test defibrillators under a variety of patient impedance conditions, from 25 ohms to 200 ohms.
It also assists manufacturers with IEC60601-2-4 and AAMI DF80 standards compliance, as well as allows technicians to follow any manufacturers' product-inspection procedures. A standard USB interface enables computer control and data transfer, and optional Ansur PC-based automation software increases productivity by outfitting users with an easy-to-use method to standardize testing procedures and capture, print, and document data. The company offers a no-cost extended warranty, available after first-year calibration at any Fluke Biomedical authorized service center.
(800) 850-4608
www.flukebiomedical.com
---
DR Performance Check Instrument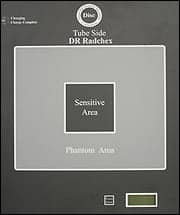 Diagnostic Imaging Specialists Corp (DISC), St Malo, Manitoba, Canada, recently launched the DR Radchex, an instrument designed to check and document the performance of all vendors' fully digital radiography (DR) systems. Intended for weekly and periodic DR quality assurance programs, the DR Radchex is a factory x-ray calibrated, NIST/PTB traceable instrument. It features an 11 ½- x 11 ½-inch (29 x 29 cm) "transparent" detector located in the center of its electronic cassette that allows imaging phantoms to create images, while simultaneously providing a measurement of radiation dose used to create the images.
The same size as a film/screen or CR imaging cassette, the DR Radchex simplifies daily quality assurance testing. The device operates by placing the DR Radchex's electronic cassette on the DR tabletop. A single exposure produces an image and dose at the same time, which are displayed on the front LCD display. After entering this data in supplied software, the results are automatically graphed.
(860) 799-0526
www.discorp.ca
---
In-house Probe Repair

MedPro Imaging, Waukesha, Wis, offers MPI ProbeLabs, a turnkey ultrasound transducer repair package that enables in-house probe repair. With goals to cut budgets, bringing probe repair in-house can significantly reduce hospital spending and gives the ability to repair probes the same day they go down. ProbeLabs is based on proprietary smartspeed repair technology, and includes computer-based probe repair devices and processes for consistent repairs.
The scalable packages will also include on-site training and ongoing support in probe asset management, designed to reduce preventable probe damage and maximize probe life expectancy. The packages help avoid downtime, costly shipping and loaner fees, and lost revenue. In-service training on preventive probe care is also available for clinical users, reducing the severity and frequency of preventable probe damage, especially to costly TEE probes.
(877) 846-8818
www.medproimaging.com
---
Fully Automated Testing Interface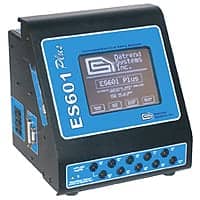 EQ2 Inc, Burlington, Vt, has introduced an interface between its HEMS clinical equipment management system and Datrend Systems' ES601 plus testing system. This fully automated system provides clinical technicians with testing and data management capabilities to reduce service time and errors. The standardized, mobile clinical equipment testing system eliminates manual data collection and entry, as well as preventive maintenance scheduling. EQ2 also provides standard procedure libraries for non-medTester—an automated system designed for electrical safety testing and performance verification—customers that enable a quick transition from paper-based to a paperless PM system based around the ES601 Plus testing system.
(888) 312-4367
www.eq2.com