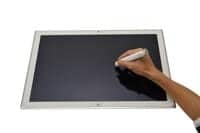 Panasonic, Secaucus, NJ, a provider of health care technology solutions, unveils a number of new offerings, including an 103" interactive plasma display and a 20-inch 4K resolution tablet.
The 103" TH-103PB1 interactive plasma display—a device designed to increase interactive engagement and enhance collaboration—combines whiteboard-style collaborative functions with a high definition (HD) display. It features simultaneous multiple-input drawing capabilities (with up to four wireless pens), allowing users to engage in written annotation and drawing and independently move items around the screen.
The 20-inch Ultra-HD 4K tablet (3840 x 2560, 9.83 million pixels), features a 1.8-GHz Intel Core i5 3427U processor, Nvidia Geforce graphics, 4GB of RAM, and a 128GB SSD. With its aspect ratio of 15:10, it can display an A3-size paper in almost full size, useful to show large content such as medical images. The pen input, with a resolution as high as the panel itself, enables natural handwriting and annotation on the tablet.
The Panasonic Toughpad family of rugged tablet computers for mobile health care workers includes the new Toughpad JT-B1, a 7" Android-powered unit, and the Toughpad FZ-G1, a 10" tablet featuring Windows 8 Pro.
Digital signage solutions for health care include LED video walls and large format LCD displays. Panasonic also enhanced its video surveillance and security solutions, including security cameras, recorders, control systems, and monitors.