Rochester General Health System, Rochester, NY, has purchased CARESTREAM Vue for Cardiology to improve efficiency by integrating cardiology exams with its radiology PACS and its electronic medical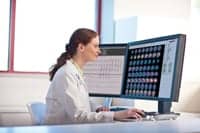 record (EMR).
"We selected Carestream's Cardiology PACS because it offers excellent functionality and will integrate with both our radiology PACS and our EMR," said Amy Craib, VP of cardiac services, Rochester General Health System. Having an integrated solution will provide our clinicians with faster, easier access to patient information, which will allow us to provide the highest quality care to our patients."
The hospital also plans to leverage its existing Vue Archive as a centralized repository for cardiology and radiology imaging studies. Vue Archive equips health care providers to create a single point of access for imaging exams, lab, and pathology results, and other forms of patient data. A consolidated archive expedites clinical access to patient records while helping to reduce storage costs.