With innovative approaches to routine, the team at Dorn VAMC has achieved

excellence in preventive maintenance, corrective maintenance, and collaboration
By Renee Diiulio
Two hours. The equivalent of 120 minutes or 7,200 seconds. Equal to one-fourth of an 8-hour workday, one-sixth of a 12-hour workday, and one-twelfth of our 24-hour day. Two hours can be easily wasted or put to good use. Two hours devoted to something every day consistently over time can eventually result in excellence at that "thing," whether it be playing the piano, skiing the slopes, or even performing preventive maintenance (PM).
By dedicating the first 2 hours of every workday to preventive maintenance via a time-management strategy, the clinical engineering team at the Wm Jennings Bryan Dorn VA Medical Center (VAMC) in Columbia, SC, has achieved excellence, improving its PM completion rate from an average of 92% to 93% to approximately 97% for nonlife support equipment and 100% for devices devoted to life support, according to Robert Hijazi, PhD, MHSA, MSBE, CCE, CBET, chief, biomedical engineering, for the health care organization.
Excellence is not necessarily the team's main aim—neither are cost savings or recognition. However, all three are happy side effects to the main motivation: veterans helping veterans. Of the six members who make up the biomedical staff (including Hijazi and five biomedical specialists), four are veterans of the armed forces and represent three of the branches—the Air Force, Army, and Navy.
"Most of the biomedical specialists represent veterans serving veterans, and we, along with other departments, come together to support that greater purpose," Hijazi says. Our role is to ensure that the equipment is well-maintained so that it contributes to, and even enhances, patient care."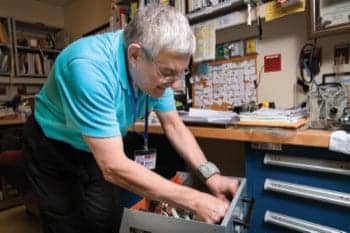 Lloyd Porter replaces the pump head kit on an Allied Gomco suction apparatus.
"Many of the veterans here take pride in serving veterans," concurs Thomas Terry, a biomedical equipment specialist on the team who served in the Navy. That pride has led to an easy excellence, recognized by the modest team members only when discussing their colleagues.
"We have years and years of experience within the department as well as multiple certifications, and it makes a big difference to have people of excellence and value on the team," Terry says. He is currently working toward obtaining his CBET certification. Team member Russell Masters is also working toward completion of this program.
Hijazi notes he has the least biomed experience of the team members, with 6 years in the field (although he also has the most certifications, including a PhD in public health, a fact he does not mention). The five specialists have an average of 20 years of experience; one holds a BS in information management (masters), two hold CBETs, and one has a CHSP [certified healthcare safety professional].
Team members are encouraged to pursue certifications, and the VA organization provides a large amount of support for education, in general, recognizing that the right training can result in saving money—and patient lives. The biomedical specialists at the Dorn VAMC have found access to resources of all types that provide additional advantages to working for the government organization.
The major disadvantage of a position with the VA—having to account for every penny spent—is a challenge faced by the vast majority of health care organizations today. The big difference for a VA organization is that the team is held accountable not only by hospital administration, but also the US government and, even more notably, the US taxpayer (hence, more paperwork).
Fortunately, the combined experience of the Dorn VAMC clinical engineering team means the group can handle a large amount of responsibility in an extremely cost-efficient manner. Coupled with internal cooperation and external collaboration, they have been able to not only manage a growing inventory with a shrinking team (at one point they numbered seven, according to Hijazi), but they have also been able to improve performance and ultimately achieve their major aim of veterans helping veterans.
Six Guys, 3,600 Devices
The six-member department, which reports to the facility's chief of engineering, manages an inventory that includes 3,600 devices on a PM plan and 3,400 on corrective maintenance. As with many clinical engineering departments today, the team has brought the care of as many instrument types as possible in-house.
The department develops a strategy for each device based on a number of factors that include a risk assessment, which considers the item's function (eg, life support versus nonlife support); the physical risks of a malfunction; and the maintenance requirements. "If a manufacturer recommends an annual PM, but my risk assessment indicates that every 6 months would be better, we would schedule semiannual PMs," Hijazi says.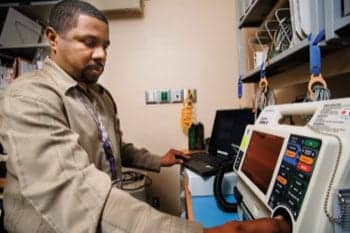 Thomas Terry conducts a performance verification on a LifePak 12 defibrillator.
Work is assigned based on specializations, but because of the structure and the vast experience on the team, there is a lot of workload sharing. It encourages cross training, and members occasionally switch assignments to enable individual team members to gain experience in a particular area.
The entire team gathers once a week to review workloads. "If somebody is falling behind on PMs because of an increase in repair work orders, everybody will pitch in, particularly someone who may have already completed their PMs—and that's facilitated through our weekly departmental meetings," says Lloyd E. Porter Jr, CHSP, a senior biomedical engineering support specialist.
Two Hours a Day
PMs are a major focus of the weekly meetings, just as they are a routine part of the day. The 2-hour policy implemented by Hijazi is relatively new. Essentially, the first 2 hours of every workday are spent on PM in a routine cycle, from planning to device location to PM completion, unless an absolute emergency demands a specialist's attention.
What constitutes an emergency? "It depends on the department," says Jerry Johnson, CBET, VISTA imaging support specialist. "Obviously, a patient on the table in a surgical room whose life is in danger constitutes an emergency, but a malfunctioning otoscope in a physician's clinic office is not considered life-threatening—though it is urgent to the physician." With an understanding of how the biomedical department operates, the clinical staff typically does not make unreasonable demands. Teamwork is an approach shared within the organization at large, as well as on the departmental level.
The first phase of a PM cycle occurs in the final week of the month prior to when a PM is due. Hijazi produces reports for each biomedical equipment specialist that list which devices are due in the next month.
"This enables us to identify life support equipment, ensure we have necessary parts and PM kits, order them if needed, and schedule high-volume or contract devices for time out of the department," Terry says.
The next step is to complete the PMs. The team takes care of life support equipment first, and 33% of an entire list is usually required over each of the next 3 weeks. The final week is also spent locating hard-to-find equipment—as a team effort.
"Just because a device is not your responsibility does not mean it is not your 'problem,' " Hijazi says. "We perform a floor-to-floor sweep of the entire hospital as a team with a list of 10 to 12 priority items to locate."
The team also uses e-mail to reach out to department managers and equipment users for especially difficult-to-find devices, and Terry prints out images to help jog memories. "The use of photos has been very effective and well-received," Terry says. The team has been about 95% successful in locating missing equipment.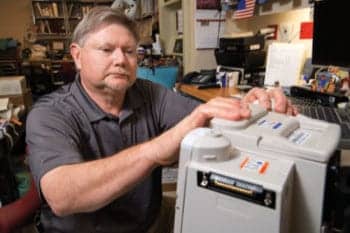 Darryl Suchma downloads drug data sets and calibrates an Alaris IV pump.
What Year Is It?
The department has also been extremely successful in streamlining the workflow so that routine responsibilities, like PMs, can be handled as easily and cost-effectively as possible. No task is too small or too big for improvement, and the weekly meetings provide an ideal time to explore new strategies—new ideas are welcome from anyone on the team.
"The current administration is open to recommendations. If an idea is good, they'll use it; if an idea is not accepted, they share the reasoning behind why not," Johnson says. Subsequently, new ideas have been developed and put in place, from the simple to the complex.
For instance, in terms of finding equipment, the team modified its sticker policy to enable rapid visual recognition of a device's PM status. Instead of simply placing a sticker with the month and year a PM is due, the color is changed to indicate the year. For instance, a red dot with a four on it would indicate the PM still needs to be completed this month; a blue dot would indicate the PM is not due until 2014—so the biomed specialists can now determine a device's status with a glance.
A similar approach has also been implemented for batteries. Battery replacement stickers are similarly colored to indicate the year the device battery should be replaced; seven colors are recycled. The information is also recorded within a spreadsheet that is maintained as a backup file and tracks all of the batteries used for life support equipment. "We can very quickly verify whether a battery should be replaced," Porter says.
Parts, such as batteries, are also easy to locate. Every part is assigned a number and stored within parts cabinets accordingly. "When I need a part, I look up its number by manufacturer, then locate it within storage," Terry says. The process is fast and easy and maintained by everyone on the team so that parts can be ordered when necessary and in advance of need, when possible.
"The idea is not to have too much stock, with the exception of covering emergencies." Porter says. "You don't want to tie up a lot of money in bench stock, especially if you have a high equipment turnover, because then you are left with parts you don't need."
VAst Organization, VAst Resources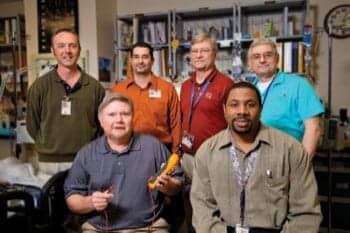 Back row, L-R: Russell Masters, Robert Hijazi, Jerry Johnson, and Lloyd Porter. Front row, L-R: Darryl Suchma and Thomas Terry.
Time can be saved in some instances by starting a vendor search with recommendations. Porter utilizes a trusted VA internal network to ask other biomeds who they would suggest for a specific job. The team frequently takes advantage of the resources available to them through their participation in industry associations and their association with the VA.
The Veteran's Health Administration, a branch of the US Department of Veterans Affairs, operates more than 1,400 sites of care throughout the nation, including hospitals, community clinics, and community living centers, domiciliaries, and readjustment counseling centers. Within its structure lies a vast amount of knowledge and expertise that the organization attempts to maximize through shared resources, a number of which are devoted to clinical engineering.
The biomedical specialists can utilize the Center for Engineering and Occupational Safety and Health (CEOSH) to obtain service manuals, material safety data sheets, equipment passwords, training materials, or other necessary information online. Departments throughout the VA system have contributed resources so that the service manual library holds more than 5,000 guidebooks, according to Hijazi, who notes they have uploaded manuals to the site as part of the collective.
Darryl Suchma, biomedical imaging specialist, mentions that the department participates in a VA risk pool, which amasses funds to pay for equipment not covered by a contract. "For instance, if we have an imaging room that has a contract cost of $100,000, rather than give that money to the vendor, we contribute a percentage of it to the risk pool. Then, if that equipment goes down, we can pull from the pool to pay for the repair, but if not, the money has been kept within the organization at large," Suchma says.
On a smaller and more personal level, the VA also endorses recognition of good work through an enterprise-wide program open to anyone. Facility employees can send a special thank you to a colleague for a job well done. In the past, these "Thank-u-Grams" came with a thank you note and some candy. Another program, "Friday Flowers," recognizes staff dedication and commitment to veterans.
Porter was the most recent honoree, receiving a dozen roses for going beyond the call of duty to set up equipment for the nursing home. Gratitude has been shown to other biomedical specialist for tasks as varied as "setting up the repack machine on such short notice," to "delivering the glucometers to a clinic outside of the regular delivery cycle."
The recognition is frequent and always appreciated, though never expected. The team would continue to do its job, with or without flowers (or candy) because its main aim is to maintain a high quality of care for the patients. It is what inspires them for the first 2 hours of every day to buckle down and tackle PMs; it is what motivates them during meetings to develop innovative ideas; and it is what keeps them doing an excellent job. Having worked in both civilian and VA facilities, Hijazi notes there is a special camaraderie among the employees in the VA that develops from the same mission, and that can lead to team excellence: veterans helping veterans. 24×7 Cover Profile April 2013
Renee Diiulio is a contributing writer for 24×7. For more information, contact jkirst@allied360.com.
Photography by: Brian Dressler