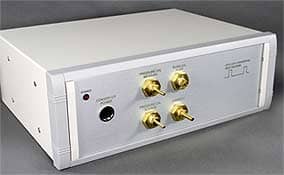 O2 Conserver Testing System
The 1130 O2 conserver testing system from Hans Rudolph Inc, Shawnee, Kan, tests pulse-type oxygen conserver systems. Users can test electronic and pneumatic conservers as well as portable concentrators that have built-in conserver devices. The system has two modes of operation—an automated testing for use in production, and an engineering mode where individual tests can be run continuously and the data saved to files. Tests include pulse volume, pulse time, trigger sensitivity, trigger delay time, pulse flow rate, steady flow rate, and low battery operation using the pulse volume and pulse time tests. Users can add an optional oxygen concentration module that provides information on oxygen concentration. Real-time graphs show the oxygen flow and cannula pressure during the tests. The test system requires a computer with a USB port running Windows XP or Vista. Custom modifications to the software are available, if needed.
(800) 456-6695
www.rudolphkc.com
---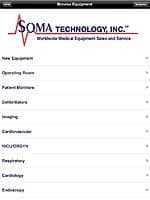 Capital Equipment Inventory App
Soma Technology Inc, Bloomfield, Conn, released the SOMA APP, an app featuring capital medical equipment for hospitals and ambulatory surgical centers. The app provides mobile access to Soma's inventory of new and refurbished medical equipment for purchase or rent from companies such as GE, Dräger, Zoll, Physio Control, Philips, Mac Medical, Siemens, and more. The user compiles a list of medical equipment needs that is then sent to Soma as a quote request. Medical equipment planners, dealers, and end users will have instant access to Soma's catalog of medical equipment, spec sheets, and price quotes. The app is available at no cost on the iOS and Android platforms on iTunes and Android Market.
(860) 578-1055
www.somatechnology.com
---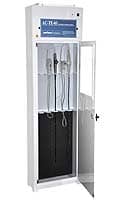 TEE Probe Storage Cabinets
CS Medical, Creedmoor, NC, manufacturer of the TD 100 automated transesophageal echocardiogram (TEE) probe disinfector, has added TEE probe storage cabinets to its product offerings. Unless probes are stored securely, disinfected probes can easily become recontaminated. Open-air hanging systems do not protect probes from airborne contamination. The Centers for Medicare and Medicaid Services requires endoscopes to be hung vertically in a manner that will protect them from contamination, and the TEE probe is essentially a type of endoscope. The TE-03 and TE-06 TEE probe storage cabinets meet these requirements. The TEE probe storage cabinets' positive-pressure filtered air bathes the disinfected TEE probes to minimize the potential of airborne particles entering the cabinet. The tip and insertion tube hang vertically inside the cabinet while the control handle and connector are held in secure positions. The new TEE probe storage cabinets use thermally fused polypropylene, making them easy to clean with any disinfectant.
(877) 255-9472
www.csmedicalllc.com
---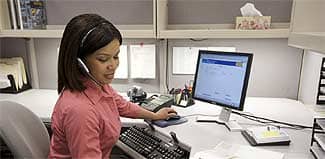 Safety and Performance Training
The Fluke Biomedical, Everett, Wash, Fluke Biomedical Advantage training center features free educational materials and self-paced, step-by-step instruction. Organized into medical device testing categories, the training center provides training on medical device performance and safety testing, documenting for regulatory compliance, productivity improvement, and information about using test instruments effectively. First launched in 2011, it also offers Spanish educational materials. Biomedical engineers, quality assurance technicians, medical physicists, oncologists, and radiation-safety professionals all use the service. Topics include defibrillator testing, electrical safety testing, infusion pump testing, patient monitoring testing, and others.
(800) 850-4608
www.flukebiomedical.com