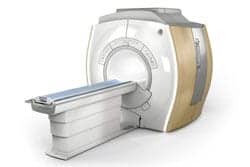 Two new 1.5T MR scanners from GE Healthcare, the Optima MR360 Advance and Brivo MR355 Inspire, have recently received 510(k) clearance. Redesigned with new enclosures symbolizing GE's Humanizing MR strategy, both systems are engineered to address the demand for increased performance, and reduced total cost of ownership for the facility while providing a comfortable experience for the patient.
The Optima MR360 Advance is designed to deliver a comfortable patient experience and advanced performance. This system offers a newly designed Express suite of coils with 16 channel head and neck array, anterior array, and flex coils that enable faster workflow.
The Brivo MR355 Inspire is designed to be an easy-­to-­use 1.5T MR system. This system also features OpTix RF as well as READY Interface, which streamlines workflow by offering simplified control of the scan parameters that may allow for greater consistency from technologist to technologist and ultimately from patient to patient.