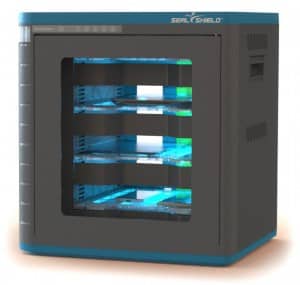 Seal Shield has introduced a new enterprise mobile device sanitizer designed to sterilize smartphones and tablet computers. The ElectroClave UV-C sanitizer and mobile device management system, recently showcased at HIMSS, relies on low-power UVC LED technology to disinfect, charge, sync, and manage mobile devices.
The patent-pending device is designed to address the risks posed by the bacteria, viruses, and fungi often carried in small portable devices, which can encourage the spread of superbugs in healthcare settings. While many hospitals use autoclaves to sterilize a wide variety of instruments, numerous devices such as tablets, smartphones, and other electronics can not withstand the high heat of these sterilization systems, according to the company.
The ElectroClave incorporates high-efficacy, low-power, low-heat UV-C LED technology, along with HEPA filtration and positive pressure, to disinfect difficult to clean devices. Built-in spectroscopic analyzers measure the change on the mobile device surface in order to insure a clean, safe device for every user. Each system can accommodate up to 12 devices simultaneously and is compatible with all major brands of tablets and smartphones. The ElectroClave features Wifi for remote monitoring and can be used as a portable sterilizer on a wheeled cart, placed on a table, or wall mounted for easy facility integration.
For more information, visit Seal Shield.