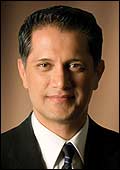 Joe Kiani
Masimo Corp, Irvine, Calif, has produced noninvasive patient-monitoring technologies for nearly 2 decades. Many top hospitals worldwide have made its signal extraction technology (SET) their primary pulse oximetry platform, and key patient-monitoring companies have adopted the technology. 24×7 spoke with Joe Kiani, Masimo's CEO and chairman, about a significant new product and the demands of the marketplace.
24×7: What led to the development of your surveillance system that monitors patients on general care floors?
Kiani: We developed Masimo Patient SafetyNet to save lives. We've understood the fundamental challenges of monitoring patients on the general care floor due to increased patient activity and motion, which were the bane of conventional patient monitoring systems and the root of excessive false alarms. With SpO2 false alarm rates occurring 70% to 90% of the time during a patient's stay in the recovery and ICU units alone, it was clear that a general floor monitoring solution would not succeed unless the problems of motion artifact and low-perfusion limitations of conventional pulse oximetry were resolved. To solve these unsolvable problems, we invented Masimo SET. Today's growing patient care challenges, including an influx of more acute patients on general care floors and the ongoing clinician shortage, have compromised patient safety and fundamentally challenged the way in which care is delivered on general care floors.
24×7: How does the product create an invisible tether between busy nurses and their patients?
Kiani: It is specifically designed to keep at-risk patients safe on general care floors by wirelessly connecting them to qualified caregivers quickly, easily, and accurately. When a monitored patient is in distress, meaningful and actionable alarms are generated by the bedside monitor and sent wirelessly to designated clinicians for review and response. Alarming critical physiologic information is displayed on the pager of the responsible clinician, and if the clinician doesn't respond by disabling the alarm(s) at the bedside, the alarm is sent to the next clinicians assigned, until a caregiver arrives at the bedside.
24×7: How integral are read-through motion and low perfusion pulse oximetry in the system?
Kiani: Pulse oximetry false alarms have kept continuous monitoring of patients in the general ward from becoming reality. Nurse-to-patient ratios make accuracy, read-through motion, and low perfusion a must on general care floors.
24×7: Were you able to keep costs down so smaller hospitals as well as mega facilities could implement the system?
Kiani: Yes. Masimo's philosophy and design goals for general floor monitoring make it possible for every hospital to be able to provide continuous untethered monitoring for their patients. Hospitals can choose between maximum speed of response or cost. To maximize speed of response and information, hospitals can implement the product as a complete system. Costs are kept to a minimum and the system can be used on a dedicated wireless network (with higher system availability), a dedicated virtual network, an existing network, or a shared network that uses existing hospital Wi-Fi infrastructure. Unlike traditional central station-based monitoring systems, it can support up to 40 patients who are directly linked to their assigned clinicians and the system does not require continuous viewing by a monitor technician, which equates to annual operational savings of at least 4.5 full-time equivalents—at an annual cost of over $200,000—per central station.
24×7: How does the Patient SafetyNet compare with other products on the market?
Kiani: Excessive false alarms have rendered other attempts at patient monitoring on general care floors unreliable. From developing a detailed implementation plan based on hospital needs and requirements to expert installations, our team does all the heavy lifting to ensure hospital staff and resources can focus on caring for patients, not equipment. The usability of Masimo Patient SafetyNet on the general care floor is easy with a simple as 1-2-3 operational design that allows clinicians to quickly and easily 1) enter a patient into the system, 2) confirm alarm limits, and 3) assign patient oximeters to clinician pagers with a few simple clicks and keystrokes.
24×7: How well does the system integrate with a facility's Wi-Fi infrastructure?
Kiani: It easily integrates into most existing hospital IT systems since it uses the standard IEEE 802.11 a/b/g protocols. The system monitors the state-of-the-network traffic and connectivity, and can provide IT administrators and network managers with essential application-management metrics.
24×7: How reliable is the system, and how does it avoid triggering false alarms?
Kiani: We know of one major hospital that experienced 10,000 false alarms per month when they tried a general floor monitoring solution based on conventional pulse oximetry. Our technology makes it possible for clinicians to respond with confidence to alarms knowing they represent real clinical events, without being burdened by excessive false alarms. The product allows a hospital to identify and program the alarms that can trigger a pager notification based upon the floor protocol and the acuity level of the patients in that setting.
24×7: How will new capabilities in the platform benefit existing users?
Kiani: Our company has and will continue to drive the innovation that enables clinicians and hospitals to do more with our devices by building and expanding the capabilities within the Rainbow SET technology platform. Recently, we introduced two powerful new measurements—SpMet and PVI—and an innovative new feature—3D alarms. Masimo is innovating in the area of predictive alarms that use multiple variables to trigger multidimensional alerts when a potentially bad pattern of events is occurring. The Desat Index 3D alarm provides an early warning alarm based on clinician-specified severity and number of desaturations occurring in a specified period of time because a cycle of moderate transient desaturations have been shown to sometimes precede respiratory failure. PI Delta 3D alarms allow clinicians to set audible and visual alarms if perfusion at the monitored site decreases by a specified level over a specified window of time, because a significant drop in a patient's peripheral perfusion may be clinically significant and indicate a change in physiological status, including potentially hypothermia, hypovolemia, shock, and/or sepsis.
24×7: What sets Masimo apart from other companies in the industry?
Kiani: Our mission since inception has been to improve patient outcomes and reduce cost of care by taking noninvasive monitoring to new sites and applications. The result is a portfolio of clinically proven technologies and products that lead the way in innovation, performance, and patient safety.
---
Judy O'Rourke is associate editor of 24×7. Contact her at .