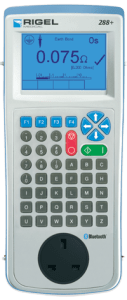 Rigel Medical, Tampa, Fla, has introduced its Rigel 288 Plus safety analyzer, designed to enable faster and safer testing of medical devices and installed equipment in hospitals and healthcare facilities. The device operates on AA batteries and can be used to complete testing for insulation, earth/ground bond, and touch or point-to-point leakage current.
Designed in accordance with IEC/EN 62353, AAMI/IEC /EN 60601-1, IEC 61010, NFPA-99, and AS/NZ 3551 standards, the device offers insulation testing between 50 VDC and 500 VDC to meet the test requirements of low-voltage DC power supplies. Point to point leakage tests can now be carried out from battery power alone, enabling testing of leakage, earth bond, and insulation without connecting to mains power. Its small footprint also makes it easier for field engineers to transport from from site to site.
The 288 Plus also features the company's earth bond technology, which combines high and low test current to ensure the accuracy of the protective earth path, helping to accurately identify any potential wear and tear. According to Rigel, the device is the only tester that provides automated verification of secondary earth paths and incoming mains configuration.