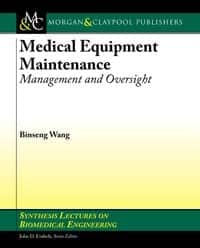 Binseng Wang, ScD, CCE, FAIMBE, FACCE, VP of quality and regulatory compliance, Aramark Healthcare Technologies, Charlotte, NC, has written Morgan & Claypool's latest edition in its series on biomedical engineering.
Wang's book, Medical Equipment Maintenance: Management and Oversight, presents the basic elements of medical equipment maintenance and management. It opens with a foundational summary of the laws, regulations, codes, and standards applicable to the maintenance and management of medical equipment in health care organizations.
In subsequent chapters, the author clarifies the reader's understanding of professional responsibilities, as well as what a manager should expect from his or her supervised staff and how to measure and benchmark staff performance against equivalent performance levels at similar organizations.
The book also covers the challenges and opportunities of managing health care organizations of different sizes, acuity levels, and geographical locations.
Purchase the paperback version (ISBN 9781627050562) for $35, or the e-book version for $30.
Click here to find out more and to purchase the book.
Weekly Jolt, December 18, 2012