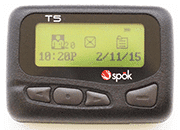 Spok, a Virginia-based company specializing in critical communications, has released a new secure wireless pager with an encrypted paging option. The T5 pager offers secure messaging capabilities and display-lock security features for the healthcare environment.
"Security and reliability are vital for organizations that are managing highly sensitive information, especially in a clinical situation that requires HIPAA compliance," said Vincent D. Kelly, president and chief executive officer of Spok Holdings, Inc. "This device is designed to be an integral part of any critical communication solution."
The T5 includes an icon-based interface, easy-to-read screen, and long battery life, according to the company. The device uses the industry-standard AES?128 encryption algorithm, and supports programming with a unique key. Messages are encrypted as they enter the company's network and sent over the air to the device where they are decrypted for display to the user. The device can support multiple keys and both encrypted and non?encrypted capcodes.
The display lock feature also prompts users to enter a four-button sequence to unlock the device when the device's personal capcode is enabled for secure messaging. The display lock activates after 5 minutes of inactivity, and can only be unlocked with one of 256 possible sequences. A remote-wipe feature allows support staff to remove all keys and messages from a device in the event that it is lost or stolen.
For more information, visit the Spok website.