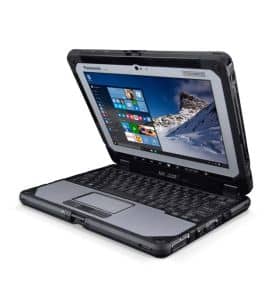 Mobile computer manufacturer Panasonic has announced the release of its Toughbook 20, what it's calling "the world's first fully rugged detachable laptop."
According to Panasonic, the Toughbook 20 is built for challenging environments, including healthcare, public safety, and defense, among others. The Toughbook includes sixth-generation Intel Core vPro processor technology, 128GB SSD, 8GB RAM, and a choice of Windows 10 Pro or Windows 7 Professional (available through downgrade rights from Windows 10 Pro).
The company reports that the Panasonic Toughbook 20 laptop has six usage modes, making it suitable for any situation or environment. Besides being used as a traditional laptop, the tablet can be detached and used by itself or flipped 180-degrees to show content in presentation mode. The convertible mode allows users to see the display with the keyboard attached and ready when it is needed. With its built-in handle, the device can operate in carry mode or be hung on a wall, while vehicle mode provides full functionality and operation of the device when on the move. The handle can also serve as a kickstand for desktop display.
The Toughbook 20 is designed to meet MIL-STD-461F for electromagentic interference and MIL-STD-810G for drop, shock, vibration, temperature, and humidity, and is waterproof and dustproof (IP65). The device has a magnesium alloy case, fanless design, locking port covers, raised bezel, and a Solid State Drive (SSD) heater, as well as a 10.1-inch sunlight-viewable 800 nit IPS display with gloved multitouch capabilities, a waterproof stylus pen, and a backlit keyboard that is 16% larger than the Toughbook 19. The device's optional bridge battery is intended to allow for continuous operation, and an optional second battery (located in the keyboard dock) doubles battery life and can also be swapped between the tablet and keyboard dock.
The company's optional features list includes a true serial port, magstripe reader, 1D/2D capable barcode reader, and dedicated GPS or 4G LTE multi-carrier modem. In addition to the 6th generation Intel Core vPro processor technology, advanced security features include integrated options such as insertable or contactless SmartCard readers, and fingerprint readers for dual factor authentication. The device weighs 3.9 pounds (2.1 pounds for the tablet only), which makes it highly portable.
The Panasonic Toughbook 20 will be available in February 2016 from authorized Panasonic resellers. For more information, visit the Panasonic website.