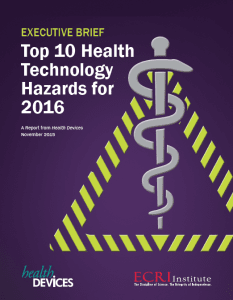 Insufficiently processed endoscopes have risen to first place on ECRI Institute's 2016 list of the top health technology hazards, bumping alarm hazards, the previous placeholder for at least 3 years running, to second place. The Institute issued the latest edition of its annual list November 9, saying the shift acknowledges a series of fatal Carbapenem-resistant Enterobacteriaceae (CRE) infections that affected major medical centers around the country in 2014 and 2015. George Mills of The Joint Commission also made reprocessing of endoscopes a focus of his address at the AAMI conference in June.
Alarm hazards remain a high priority in the number two slot, especially as the January 1, 2016, deadline for The Joint Commission's National Patient Safety Goal on alarm management approaches. Use-related error and health IT dangers also appear as major concerns: insufficient training of clinicians on operating room technologies and failure to appropriately operate intensive care ventilators each receive mention, along with errors arising from poor HIT configurations and misuse of USB ports.
Other topics new to the 2016 list include failure to effectively monitor post-operative patients for opioid-induced respiratory depression, inadequate surveillance of telemetry-monitored patients, gamma camera mechanical failures, and others. Cybersecurity, the ninth item on last year's list and a much-discussed topic at this past AAMI conference, fell off the 2016 edition.
To develop the annual list, ECRI's staff compiles insights gleaned from their testing and analyzing of healthcare technologies. Topics on the list reportedly take into account factors such as "severity, frequency, breadth, insidiousness, profile, and preventability."
The 2016 list appears below. The complete brief can be downloaded from the ECRI website (registration required).
1. Inadequate Cleaning of Flexible Endoscopes before Disinfection Can Spread Deadly Pathogens
2. Missed Alarms Can Have Fatal Consequences
3. Failure to Effectively Monitor Postoperative Patients for Opioid-Induced Respiratory Depression Can Lead to Brain Injury or Death
4. Inadequate Surveillance of Monitored Patients in a Telemetry Setting May Put Patients at Risk
5. Insufficient Training of Clinicians on Operating Room Technologies Puts Patients at Increased Risk of Harm
6. Errors Arise When HIT Configurations and Facility Workflow Do Not Support Each Other
7. Unsafe Injection Practices Expose Patients to Infectious Agents
8. Gamma Camera Mechanical Failures Can Lead to Serious Injury or Death
9. Failure to Appropriately Operate Intensive Care Ventilators Can Result in Preventable Ventilator-Induced Lung Injuries
10. Misuse of USB Ports Can Cause Medical Devices to Malfunction