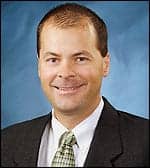 Christopher M. Cone
Lead with strength. Don't overextend yourself. These are common refrains of the business world. They are also important pieces of advice that diagnostic imaging service company Unisyn Medical Technologies, Golden, Colo, has taken to heart. Since forming in 2009 after a merger of three companies, Unisyn has grown its business by focusing on what it does best: service and repair work on ultrasound, CT, MRI, and mammography. The company is even planning to remove equipment sales from its portfolio in an effort to focus on its core service competencies. 24×7 recently sat down with Christopher M. Cone, president of the clinical services group, Unisyn Medical Technologies, to discuss Unisyn's business strategies, the future of the industry, and the new products and services from the company.
24×7: Tell me a bit about the history of Unisyn Medical.
Cone: Unisyn Medical was formed in the fall of 2009 through a merger of three diagnostic imaging companies: Sonora Medical Systems, Longmont, Colo; Echoserve, Golden, Colo; and Barrington Medical, Cary, Ill. A health care-focused private equity firm, Galen Partners, funded the acquisition and merger of those three companies and combined them into a single entity to bring it to market as Unisyn Medical Technologies.
24×7: What is Unisyn's philosophy?
Cone: The philosophy is really to seek optimal alignment with our customers, configure our service offerings with the customer's objective, and provide sustainable service solutions to our customers. We provide high-value diagnostic imaging maintenance and parts. We position ourselves as a value provider of high-quality service to diagnostic imaging equipment.
24×7: What services do you offer?
Cone: Unisyn provides field service to hospitals and physician practices for MRI, ultrasound, CT, and mammography equipment. We're also the world's leading provider of replacement transducers for the ultrasound segment of diagnostic imaging.
24×7: What is your service area?
Cone: We have about 60 service engineers that are in markets nationwide. We're in about 18 or 20 major metro areas across the US, from Orlando to Seattle to Los Angeles to Boston.
24×7: What is the breakdown of revenue between service, sales, and parts/repair?
Cone: It's about two-thirds service and one-third replacement parts and repair, with the replacement part segment primarily dominated by the ultrasound transducers.
24×7: Is all of your repair work done in-house, or do you do any on-site work?
Cone: For the maintenance service agreements, we do on-site repair of the imaging equipment. For parts, we have a depot repair operation here in Golden, Colorado. We repair a lot of ultrasound probes and subsystems for the diagnostic imaging modalities that I mentioned: subsystem power supplies, detectors, boards, transmitters; the gamut of component parts used in MRI, CT, ultrasound, and mammography equipment.
24×7: What is the turnaround time on repairs?
Cone: Most customers are pursuing a replacement model. The way the model works is a customer sends in a probe for evaluation and we provide them with a loaner. The vast majority of the time the customer's probe is repairable. When it is, we allow them to keep our loaner probe and we repair the transducer they sent us and put it back to [our] inventory. Then the cycle begins again. It's really transparent to a customer what the turnaround time is because they get a replacement probe or part immediately, but our in-house operation operates between 5 and 10 business days to process a repair. But from an end user standpoint or service standpoint, they get replacement parts the next day.
The depot repair operation is constantly producing items to stock. We know what the high-value parts are, and we will provide those to our internal service organization and to external entities the next day and then repair the exchange cores that come in as part of our ongoing depot repair process.
24×7: Does this method create any problems?
Cone: There are some proprietary parts that are difficult to get. At times we are challenged to find the form-fit-function, exact part number replacement. Within FDA guidelines, you must repair parts with the same part number or with a validated equivalent. Sometimes, component parts are custom and they can be difficult to find.
24×7: What are the benefits of this process?
Cone: It's cost. If you look at the cost to repair a high-value component, whether it's a transducer—which is a large segment of what we do—or a CT generator, the cost for us to repair it and supply replacement components versus sourcing it to the OEM or aftermarket companies is much lower, so we're leveraging our depot repair option. Also, through depot repair, we can control our quality. We are an ISO 9001 and 13485 medical device registered company, so we operate on a very strict, almost manufacturing-type environment through our repair operations, and implement statistical process control, complete sets of documentation, and certified technicians. Therefore, we can be confident in the quality of our components and replacement parts.
24×7: Unisyn also has equipment sales, correct?
Cone: We do, but it's a much smaller percent of our revenue than when we originally merged the companies. We've really defocused on the sale of replacement equipment. It's a tougher market, frankly. It's not our core competency. The margins on replacement systems can be challenging, specifically in today's economic environment where you have people willing to take less margin, even the manufacturers, in order to obtain the recurring revenue associated with service maintenance and upgrades.
We weren't very good at it, either. We weren't a stocking dealer. We didn't have control over the inventory, so as part of our evolving strategy, we really want to focus on what we're good at. We're good at providing high-quality field service for the modalities that I've mentioned, and providing high-quality replacement parts and transducers. We want to focus on those core segments.
24×7: Are you planning on discontinuing refurbished sales altogether?
Cone: We've already formally exited the sale of CT and MRI, and we are in the process of exiting the sale of ultrasound equipment. So our long-term plan is to phase completely out of that business.
24×7: How has the economy affected your business?
Cone: The economy has affected our replacement systems business. When there was growth in the market and the economy, there were investments being made in high-end CT and MRI equipment by alternative diagnostic imaging service providers—for example, outpatient clinics and nonhospital providers. That allowed a niche for the sale of high-end diagnostic imaging equipment. There is still hospital demand for this equipment, but the demand at the nonhospital market has been curtailed by both the economy and the lack of clarity around the pending health care reform legislation.
24×7: Has your repair work grown since the economic downturn?
Cone: Service and replacement parts are steady. It appears to me that the assets are staying in the install base longer. It's apparent to me that all diagnostic imaging providers are seeking to better manage the costs associated with providing their services, and the maintenance cost is a large percentage of the cost of offering diagnostic imaging services. In short, I do believe that the economics that are negatively affecting capital investment are positively affecting service opportunities and postwarranty service opportunities.
I think there's probably going to be, perhaps similar to what we saw in the early 1990s when Clinton was discussing health care reform, some pent-up demand for capital equipment—meaning that when they finally present, vote on, and perhaps adopt the road map for health care reform, the fear of the unknown may go away and there will be investment in high-end capital equipment that has been pent-up while providers wait to see how the reimbursement and utilization discussion plays out. Having said that, I think there's probably going to be a sustained focus by hospitals and alternative imaging providers on the cost and making sure their business models fit within the reimbursement framework so that they can have profitable businesses.
I don't think there will ever be a lack of focus on the cost of maintenance and service, and therefore I think the opportunity for third-party service organizations like Unisyn will continue to expand. There will be interesting competitive dynamics with folks like us and the OEMs, but I think that the hospitals can't just go back to the way things were and buy the highest-end imaging equipment and pay the full, gold-level service contracts. Most imaging providers just don't have the revenue to enjoy that type of business relationship in the future.
24×7: Can you discuss your training program?
Cone: We provide service training to our external service partners, large hospitals' in-house clinical engineering groups, and independent service organizations that we have a strategic alignment with, primarily for ultrasound. We provide some basic ultrasound training, but we really focus on the advanced-level training for the contemporary ultrasound platforms. We bring, collectively, hundreds of years of experience in ultrasound service. We have very experienced trainers. We couple our training with real service programs.
We then augment that training with our ultrasound probe replacement business, our parts, and our ongoing level-one through level-three tech support, which we organize through our national tech support center. We enhance our training program further with an online knowledge database called Ultrasound Guru, which allows folks that take our training to log in and review cases based on keywords to expedite the troubleshooting and repair process. We back up many of our service training customers with field-based ultrasound service engineers if there's a problem they can't resolve internally. We provide an option outside of the manufacturer for advanced service opportunities.
We're very proud of our training and think it's the strongest in the industry as it relates to ultrasound service training.
24×7: Has your training program seen more business in the last few years?
Cone: I would say that it's been a pretty consistent demand. We field two or three calls a day from clinical engineering groups and ISOs for service training. The thing about service training is that it's a dynamic situation. There are new platforms being brought to the market every year by the manufacturers. Those platforms, once they reach a critical mass in the install base, present a service challenge to in-house groups and independent service organizations. So you'll always need to be trained on the newest platforms if you're going to have some level of direct service on those assets.
So I would characterize it as consistent. Frankly, for hospitals that decide not to spend on training, the cost is significant because over time, the ability for their in-house groups to support that equipment erodes and they're subject to the costs of the manufacturers' service offerings. I haven't heard a lot of people say they don't have a budget for training—maybe a little bit for travel—but if anything, I've seen steady if not increased demand, particularly on the newer GE ultrasound platforms.
24×7: Do you have any new products/services planned for the future?
Cone: We're very excited to be coming to market with a point-of-use ultrasound probe tester. We have a product called the FirstCall, which set the industry standard for the testing of ultrasound transducers independent of the system. We're unveiling our next-generation portable point-of-use probe tester late this year or early 2012. We think that product has the potential to revolutionize ultrasound service and take ultrasound quality assurance to the next level. So we're excited about that product, which will go under the trade name OneLook.
The ultrasound market in general is one of the strongest growth modalities because of its use in many more applications than it has been used historically. Ultrasound as a modality continues to experience very strong growth in adoption and new clinical applications. That's one of the reasons we're bullish on our business—the fundamental around ultrasound, which comprises a significant percentage of our overall business, is very healthy in the clinical environment.
---
Chris Gaerig is the associate editor of 24×7. Contact him at .