Solvent-Resistant Lead Wires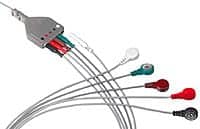 Bioconnect, San Diego, offers replacement lead wires for patient monitoring, which often wear out quickly because of frequent handling. Bioconnect's replacement leads feature DIN overmolded DIN sockets that have a positive fit with any brand of cables approved by the Association for the Advancement of Medical Instrumentation (AAMI).
Bioconnect's AAMI cable series is designed and manufactured specifically to maximize retention with its own brand of leads. The strain reliefs provide added flexibility for enhanced durability. The leads are manufactured using Santoprene brand latex-free thermoplastic elastomer, which is resistant to most cleaning solvents found in the clinical setting. Customizable for department identification, they come in both snap and pinch configurations.
(888) 775-2372
www.biocables.com
---
DR Performance Check Instrument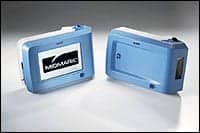 Midmark Corp, Versailles, Ohio, offers the IQvitals and IQvitals PC automated vital signs devices. The portable IQvitals is an automated vital signs device that measures noninvasive blood pressure, heart rate, and body temperature, and features a touch screen, intuitive user interface, one-touch operating controls, and a QWERTY keyboard. It can be used as a stand-alone device or in conjunction with Midmark's proprietary IQmanager software for digital data collection and management. IQvitals has an internal battery that supports up to 8 hours of operation per charge.
IQvitals PC is a PC-based vital signs device that also measures noninvasive blood pressure, heart rate, and body temperature. USB and serial connectivity are standard for both devices. Available accessories include a thermal printer; an integrated digital scale; and a variety of stands, carts, and wall mounts. Both are available with a pulse oximetry option.
(800) 643-6275
www.midmark.com