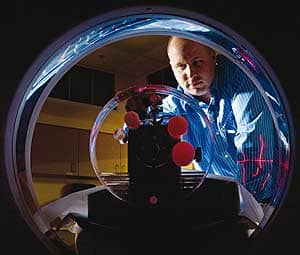 Biomed Radiology Tech John Pelucacci adjusts the beam on a 16-slice CT.
In an era when biomeds are doing more with less, the department at Pocono Medical Center (PMC) in East Stroudsburg, Pa, added a preventive maintenance (PM) technician (upping the staff to five) to the mix late last year. Veteran Biomedical Manager Gordon Conniff managed to hire the tech thanks to a relentless focus on cost containment, all while maintaining the quality that earned PMC a place in the top 5% for nationwide clinical excellence as recognized by Health Grades, an independent rating organization.
Call it the pentagon of the Poconos—a five-sided attack on PMC's 4,600 pieces of equipment in a facility that houses the second busiest emergency department in Pennsylvania. It takes a lot of experience to keep it all humming along, but after patrolling the PMC halls for the past 22 years, Conniff knows every nook, cranny, and nuance of the venerable main building that has stood since 1915.
When it came time in 2005 to expand and build a new wing, Conniff immediately got involved with the planning. "For biomed, it meant that we became the administrators of about 1,800 additional pieces of equipment," Conniff says. "We were fortunate to work with a facilities director who was willing to bring us in up front so we could coordinate equipment purchases. Our vice president also knew what it meant to include biomed as part of the evaluation."
When the bulk of the new space opened in 2007, Conniff and his staff members began planning for 2008 and 2009 when a lot of equipment at the 231-bed facility was scheduled to come off warranty. "It was going to become our service responsibility once everything came off warranty or extended warranty, which added a significant amount of hours to our service budget," Conniff says. "I'm a firm believer in training, and we have always been aggressive in receiving training from the companies. For example, with our monitoring system we partnered with a company, and we have gone to their factory school for several years now."
With the service program for monitors already in place, Conniff was careful to also develop multiple alternative sources for parts. Viable alternatives mean that PMC staffers such as Mark Bajadek, a biomedical tech II with 18 years' experience at Pocono, are rarely out of luck if the manufacturer is short-handed.
Unlike many biomed departments, PMC services its own anesthesia equipment. Bajadek acquired most of this knowledge at the OEM school and is now licensed for anesthesia. In addition, PMC biomeds service their own ultrasound, and Bajadek and Brian Nagy, biomedical tech II, are in charge of this sector.
"We also do our own sterilization and all our washers here," Conniff adds. "We have sought out training from the manufacturers on all this equipment. So it really is a balancing act, but we progressively pursue bringing the skills in-house so that we can more appropriately make an assessment on whether we can quickly, effectively, and safely do a repair—or if we have to outsource it to somebody."
Cost-Avoidance Department
Back in the 1980s, many viewed biomedical departments as "nonrevenue producing," and Conniff admits to the same mind-set. "I always based my data collection on the fact that, yes, biomed is a nonrevenue department," Conniff says. "However, we are a cost-avoidance department, and the money we save goes directly to the bottom line."
For biomeds, costs rarely fluctuate based on patients since equipment remains and it must be maintained. Given that reality, Conniff always makes sure that administrators understand the fundamental regulatory requirements and the crucial cost-avoidance factors that contribute money to the bottom line.
"Our administrators have always paid attention to our numbers," Conniff says. "But not only the numbers from work requests and work orders, but the number of hours we put in for projects and investigations—and the work we do acting as a liaison between equipment manufacturers and the hospital, the prepurchase evaluations. All of this reporting paints an accurate portrait of what you do, and maybe even increases your chances for hiring a new person."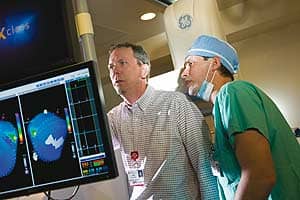 L-R: Biomed Preventive Maintenance Tech Robert Klaman and Biomed Technician II Mark Bajadek collaborate on an EP lab monitor replacement.
At PMC, that new person ended up being Robert Klaman, now with the company just 6 months and hired on as a biomed PM technician. The slightly unusual job description involves filling in the void for a lot of smaller items that require monthly PMs.
"I am taking up the slack and freeing up others," Klaman explains, a Coast Guard veteran with more than 6 years of biomedical experience. "With the expansion of the hospital, we took on 750 additional IV pumps, which took a lot of time to take care of—so all the guys here were stretched a little thin prior to my hiring."
In making the successful case for another body, Conniff reminded his bosses that accreditation agencies and state officials were always looking to ensure that equipment was properly cared for through PM. Therefore, the idea to create a PM tech ultimately gained traction and helped free up others to complete PMs on higher-end units such as ultrasound, anesthesia, and sterilizers. With a longtime philosophy to develop and promote from within, Conniff will likely groom Klaman to gradually branch out through training to learn other things.
As ardent pursuers of in-house work that can avoid costs associated with OEMs, it was not long before Conniff asked his longtime employee John Pelucacci to explore the possibility of working on imaging equipment. Without an established relationship with the folks in radiology, however, that was easier said than done.
"We would go up there and do little odds and ends," Pelucacci says, who has been at PMC for a decade and is now a biomed radiology technician. "However, as far as really working on the equipment, it took a while. In the past, we had some directors that were hesitant to let us up there. They wanted OEM people, and that was their comfort level."
After seeing the work orders and taking a hard look at what the OEMs were doing, Pelucacci started off with some basic x-ray courses and went from there. After completing DITECH x-ray classes, he came back and started "chipping away little by little"—a process that only progressed by negotiating training following new equipment purchases.
"The bridge that we had to build up there in x-ray has taken a good 5 to 6 years to get to where we are right now," Pelucacci says. "Rather than picking up the phone and calling the OEM, they are calling us."
One trick to building a new bridge to radiology—or any other department—is resisting the urge to overpromise. "If you promise too much and do not provide, you have pretty much killed your chance of finishing that bridge that you are trying to build," Conniff says. "Fortunately, our executive management has been great in allowing us to attend training and schedule training from a budgetary standpoint. When we move into an area, we show them exactly how much money we're saving based on the historical work done by the OEM."
Pelucacci believes that a lot of other biomeds at facilities that may have contracts on equipment may look at the contract and essentially give up, not wanting to know anything. "Even though a piece of equipment comes under contract, we are constantly looking at it, reviewing the service reports, and we know what is going on with that piece of equipment at all times," Pelucacci says. "We don't just brush it under the carpet and say, 'It's under contract.' When it does come down to the wire, we say, 'We probably can take this over.' "
It Starts with Trust
When Conniff and staff members settle down for a meeting, the familiar hierarchy of boss and employee tends to disappear. Back in the 1980s, no such meetings were necessary because Conniff carried the load by himself. These days his four helpers are an integral part of an operation that prides itself on teamwork, a much-hyped concept that Conniff embraces with the utmost sincerity.
With no shortage of work to be done, staff members take their cues from the top, where Conniff encourages a cooperative atmosphere based on trust. Bajadek, Nagy, Pelucacci, and Klaman appreciate their boss' faith and embrace the can-do philosophy.
"We all work together and get along so well under Gordy's supervision," Bajadek says. "It all adds up to savings because the bottom line is a big deal. We always try to cut back and reduce. When we take care of things ourselves without having them under contract, we have a 3- to 4-minute response time to the OR. A lot of times when you get instruments and equipment under contract, it might be a day or two or three before the OEM can get in there. So aside from the dollar savings, it is better customer service—and that is our number one job."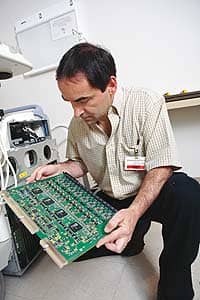 Brian Nagy (shown inspecting a replacement board) says of in-house support, "It's a big cost savings for the facility."
"I have worked on just about everything in the hospital at one time or another," Nagy says. "When the contracts go away, various tasks become just another added service for the biomeds. Sterilizers, operating room beds, ultrasonic machines for central supply—it's a big cost savings for the facility, and we do all of that."
A sterling reputation around the hospital stems from a combined 50 years' experience. When biomeds join PMC, they tend to stay and that familiarity breeds trust among clinicians. A willingness to tackle new pieces of equipment is yet another prerequisite for success. "A lot of times, especially for the higher-end equipment, people are afraid to try," Pelucacci says. "If we want to learn about ventilators, anesthesia, or radiology, we get factory training and develop a comfort level. It takes time, and this department was not born yesterday, but it all starts by opening those new doors."
More with Less
The Pocono Health System (PHS) features a network of medical facilities throughout the picturesque Pocono Mountains region of Pennsylvania. PHS manages five health care subsidiaries to collectively provide services to residents and visitors of Monroe County and surrounding counties in Pennsylvania and New Jersey.
Jack-of-all-trades Nagy agrees that making do with five employees in their section of PHS can be quite a trick, and he acknowledges that, "Down the road we would like to take everything off of contract and perhaps grow the department with another two to three biomeds over the next decade." Until then, as long as the key theme of teamwork remains a priority, he says they can remain strong.
The department's overall success has not gone unnoticed by administrators, and even other divisions, who occasionally seek out Conniff for management tips. While the equipment database is remarkably efficient, the solution to a well-run department ultimately goes back to one prime directive: hire wisely. No one can know everything, but Conniff looks for biomeds who are motivated to find answers.
"When somebody calls regarding a problem," Klaman says, "we find a way to figure it out, or we find the right person that can answer the questions for us."
It may sound like a cliché, but the fundamental culture of hard work and teamwork fuels the department's success just as much as sheer technical knowledge.
"The most important thing that makes a biomed a productive force within an institution is the attitude and the relationships between the technicians," Conniff confirms. "I am the only manager in this entire facility that has had the opportunity to hire my entire staff."
---
Greg Thompson is a contributing writer for 24×7. For more information, contact .