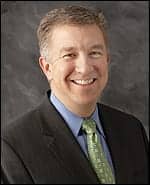 Bill Kollitz
Although MEDRAD, Warren-dale, Pa, has serviced the medical device community since the 1960s, its Multi Vendor Service (MVS) division did not take flight until the mid 1980s, after biomeds began requesting that the company service coils it did not manufacture. Since then, the company has expanded MVS to include various coils and ultrasound probes, including transesophageal (TEE) and both 3D and 4D probes.
Recently, the company began guaranteeing 100% repair capabilities on select probes and coils. 24×7 spoke to Bill Kollitz, director of marketing for MVS, about the repair process, industry growth, and tips for keeping probes and coils in tip-top shape.
24×7: Tell us about your history with the company.
Kollitz: I actually started as a mechanical engineer, but I joined MEDRAD in a marketing capacity as the product manager for our MRI coil offering. Several years ago, I moved over into the role I'm in right now, which is marketing and developing new service offerings for the multi vendor group, which includes MRI coil service, ultrasound probe service, and CR and dry imager service in the field.
24×7: How has the company been expanding for the 20 years since MVS's inception?
Kollitz: Our growth has been fueled by growing our capabilities, which has really been the underpinning of our group. We started repairing coils that we manufactured, and then expanded into servicing coils that were manufactured by others.
In the early 2000s, we took our knowledge of an electromechanical device—that really was a peripheral device associated with a larger imaging system—and applied the same depot-based repair processes to ultrasound transducers. In 2001, we started servicing standard ultrasound transducers and surface probes. Later, in 2004, we began our TEE probe repair capabilities.
Growth has been fueled by developing new capabilities, and also deeper repair capabilities on existing product lines.
It's really important for hospitals and biomeds to understand what those capabilities do for them. Think of a third-party repair provider such as MEDRAD MVS: If we can only fix a certain portion of probes, then the other portion has to either be exchanged or be purchased new. The more we can repair, the less often hospitals have to go and source a new or refurbished probe on the market.
24×7: What are some of the suggestions you get most often from biomeds? How have you incorporated these into your business?
Kollitz: We really take our lead from the suggestions we get in the field. We incorporate voice of customer, formal market research studies, as well as conversations conducted in the field by our sales and service teams.
Some of those suggestions led to our entry into coil and ultrasound probe repair, as well as our capabilities for TEE probes. We've also seen the demand for high-quality solutions for oil-filled, mechanical 3D and 4D ultrasound transducers—and we've recently developed some 100% repair capabilities on those probes in response.
24×7: How are third-party service providers being utilized by biomeds in this economic climate?
Kollitz: Right now, economic times are tough. Hospital budgets are being stretched, and biomeds in general are looking for ways to save money. That's where a company like MVS comes into play. We're able to offer a really unique combination of value that's driven by our ability to repair more often than anybody else, and we truly have the highest repair success rates in the industry. We are ISO 13485:2003 certified, and our customer care is backed by an extensive field service force.
Customers also have the ability to talk to a live person to get transaction assistance immediately. Our goal is to get customers up and running as fast as we possibly can.
24×7: Are there any probes or coils that you do not offer service for? What solutions exist for customers with these products?
Kollitz: We have an extensive network of sourcing options and the largest inventory of probes and coils in the industry, so we may have the item in stock or we can reach out to our extensive network and source a product for an exchange for a customer.
24×7: What are some things biomeds can do to prevent coil and probe failure and mitigate serious issues?
Kollitz: Ultrasound probes, specifically TEE probes, are probably the most fragile and prone to failure. Proper care, maintenance, and cleaning are really the keys to keeping those probes working properly.
First, we recommend storing them in a probe rack or another type of storage device that will keep them straight and out of harm's way. Second, use only chemicals and cleaning materials recommended by the manufacturers. Contrary to most people's beliefs, chemicals and cleaning agents that are OK for one transducer may not be OK for another. The third thing—and this is applicable across all products—is to make sure that minor problems are caught and repaired early, because minor problems can expand into a major catastrophe if they're not caught and addressed early.
These minor problems might allow fluid to enter a probe where there should not be fluid, or allow dirt or other agents to enter a coil and cause more catastrophic damage than had that repair been identified early.
24×7: What else can biomedical equipment techs look for to help identify problems early?
Kollitz: For TEE probes, perform electrical leakage testing between each procedure. That will help identify if there are any small holes or violations of the original manufacturer's product that may allow fluid to enter or other damage to occur. Also perform a visual inspection of the products between every movement, and look for any sort of cracks, holes, or other various failures that need to be repaired.
24×7: MEDRAD offers 100% repair capabilities on quite a few probes. What goes into servicing these? What's the process like?
Kollitz: There's a tremendous amount of research and development, and a big investment made to enable that capability. Basically, when a probe fails, we bring it in-house and we send out a loaner. Then, we take that probe through a very detailed evaluation and diagnosis process looking at multiple parameters over a nine-station process. From there, we generate a very thorough, comprehensive evaluation, which is presented to the customer. The evaluation details exactly what's wrong with the probe and what needs to be performed to get it running properly.
From there, the probe is repaired by a team of technicians with an extensive background in probe repair. These are processes we've developed over the years and with a pretty significant investment. From there, we package, ship, and get that transducer back to the customer.
24×7: How are techs specially trained to examine and repair these vital pieces of equipment?
Kollitz: A lot of our techs have an electronics background because the work we're doing is really very fine electronics work. They also are trained internally. We have training procedures as part of our ISO certification, and training classes are held periodically to make sure that techs are certified to do the repairs.
| | |
| --- | --- |
| | Read past Industry Insider interviews in the 24×7 archives. |
24×7: Before a system leaves your shop, what's your QA process?
Kollitz: When a probe comes in, it goes through the evaluation process I talked about. It repeats that process on the way out to verify that the repair was performed successfully and to verify that the probe is functioning again to our level of expectation.
Again, it's a nine-station process measuring many different mechanical and functional properties of the probe. For example, we measure the electrical leakage, we test the array to make sure it's functioning properly, and it's also run on an ultrasound system. There are many different stations looking for different parameters.
24×7: Where do you see the service industry in general heading, especially as we begin to see signs of economic recovery and budgets start to increase again?
Kollitz: As the economy starts to rebound, I'm still very bullish about the service industry, because essentially we've been able to prove our value to our customers. We can deliver a high value solution based on quality and customer care, and I foresee continued growth in this area. Our capabilities are continuing to grow along with changing customer needs, which will help us keep pace with the market.
---
Stephen Noonoo is the associate editor of 24×7. Contact him at .