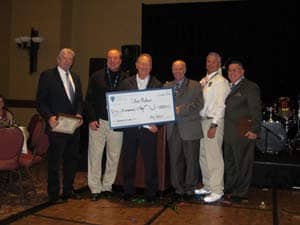 Gus Sakis (third from right) and the CMIA board present Steve Rubino (third from left) with his CMIA/Welch Allyn Professional of the Year Award.
The California Medical Instrumentation Association (CMIA) 2013 Symposium in January logged record attendance, with a total of 316 members and nonmember vendors attending the event. According to the association, the show has continued to grow substantially over the past six years and the CMIA welcomed two new chapters in the past two years, bringing its total chapter count to nine.
This year, the symposium, held January 10 through 13 in Sacramento, featured 66 vendors who exhibited products and services, as well as a magic show, social events, an awards dinner, and a golf tournament. The numerous educational tracks included a presentation by George Mills, director, department of engineering, The Joint Commission, and other industry experts.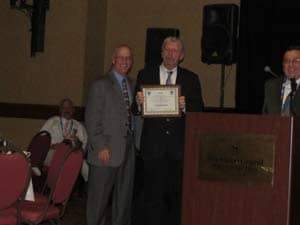 L-R: Gus Sakis honors David Sieminski.
"Every year we exceed our expectations, and this year was no exception," said Gus Sakis, CMIA chairman of the board, 2011 and 2012. "We exceeded our CMIA member conference attendance by 32% over last year. If you provide top-notch educational and training sessions they will come, and this year our CMIA members turned out in record numbers. Ivan Joyner, in charge of putting together the educational sessions, deserves much credit for all his hard work. We even had educational sessions for our CMIA corporate members so there was something for everybody."
The association also gave awards to the following members during the awards dinner:
Steve Rubino of Scripps Health received the CMIA/Welch Allyn Professional of the Year Award.
David Sieminski of Philips Healthcare received the Humanitarian of the Year Award. He was also honored with Lifetime Membership.
Rick Rambo received a Lifetime Membership honor.
Brenetria Helmstaedter, Derek Harman, Kevin Davis, and Greg Duncan each received the Frank Yip Award.
Other highlights of the show included the inauguration of new chapters, officers, and the CMIA state board, and an illusionist. The symposium offered numerous opportunities to network at one of the three socials, bringing together both members and corporate member vendors.
"I wish to thank the folks at 24×7, Julie Kirst, Vito Scamecchia, and Dennis Triola for their role in making this event a huge success," Sakis said. "I have to say none of this would have been possible without the help of our wonderful event planner, Paula Costa, and our many volunteers who put their hearts and souls into assisting with the conference. I want to thank Paul Conrad for all the work he put into booth sales and David Sieminski for his work as treasurer, and especially our volunteers for making this event very special."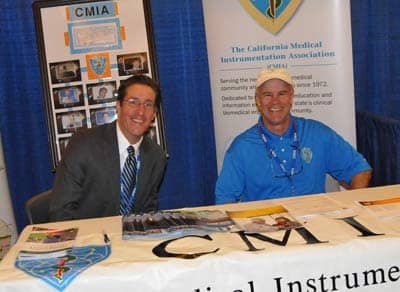 L-R: Barry Irvine and Gus Sakis