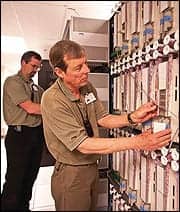 L-R: Adam Drew and Kim White repair an Executone nurse call system at McKay-Dee Hospital.
How does one manage a clinical engineering team comprised of 68 technicians operating in 23 hospitals and 152 medical clinics across five regions? The extreme options include complete corporate control on one end and laissez-faire on the other. Naturally, the ideal option lies somewhere in between, but finding the right combination can sometimes present a challenge. The clinical engineering team of Intermountain Healthcare, however, has found this balance.
Headquartered in Salt Lake City, Intermountain's facilities are located throughout the state of Utah, with one facility in Idaho. Their total inventory includes 2,723 beds and 86,500 medical devices, which are managed by the Intermountain clinical engineering team. But equipment maintenance is not the only support the team provides.
"[Intermountain] clinical engineering is not just a service group maintaining systems, but is involved in all aspects of all medical equipment throughout the life cycle—planning, acquisition, utilization, maintenance, and disposal," says Scott James, director of clinical engineering for McKay-Dee Hospital, an Intermountain Healthcare facility in Ogden, Utah.
To manage these responsibilities effectively, a hybrid centralized/decentralized structure has been developed that has taken the best of both worlds and made it work for the team, as a whole and at individual facilities. Much of the "governance" takes place through committee and the rest through collaboration.
Governing By Committee
The structure functions through leadership committees, which meet every 2 weeks, and include the CE Directors Committee and the CE Supervisors Committee. During these committee meetings, three main functions occur: data exchange, debate, and decision-making. Information is then filtered up or down as needed.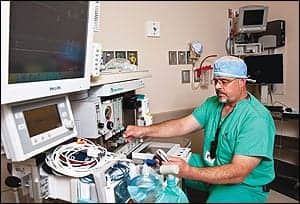 Kevin Odysseus performs preventive maintenance on a Datex-Ohmeda Aestiva anesthesia machine at McKay-Dee Hospital.
"The directors meet and get direction from the corporation to take down to supervisors," James says. The supervisors committee then shares that information with the technicians. It is often in one of these two committees where the clinical engineering team's "centralized" standards are developed and distributed.
"Our goal is to ensure we have the core, systemwide policy, procedures, and preventive maintenance protocols for front-line staff to perform their jobs and to ensure that, as a system, we meet all regulatory requirements: Joint Commission, state, and local," James says.
The supervisors committee works under the direction of the directors committee, and two directors attend supervisors committee meetings to provide input when needed and to take recommendations outside the department. A chair that rotates every 2 years leads the supervisors committee. "This keeps everyone an active participant," says Robert Howe, clinical engineering supervisor for Intermountain Medical Center in Murray, Utah.
The chair directs the discussion, makes assignments, and presents recommendations to the directors committee. When debate is drawn out, the teams are guided by principles that include "values, mutual respect, accountability, trust, and excellence," Howe notes. Individuality is set aside for the good of the standard, but not to the detriment of the organization.
The use of standardized requirements has created a more flexible workforce that boasts greater negotiating power with vendors and broader in-house resources. The scale of a united team pulls more weight with manufacturers, both during acquisition negotiations and maintenance, while in-house, the efficiency of day-to-day operations has improved. Technicians can more easily operate within any of the facilities in the system.
"I had to go to a facility in another region of Intermountain Healthcare recently, and I could see that the same standards I have to meet within the northern region were being met by the central region within that clinic," says Dustin Telford, CBET, CRES, CLES, clinical engineering equipment technician at Intermountain's McKay-Dee Hospital.
At the same time, however, the structure provides for the unique needs of each region and facility, and allows them to adapt standards to those needs rather than have to maintain rigid requirements. "The rationale is that the documentation is written as a minimum standard," James says. "You can always do more than the policy or procedure dictates, but you cannot do less."
However, there is likely to be greater leeway in some processes than others. "There is flexibility in how we set priorities, how we deliver customer service, how our customers contact us, and how we provide service to them," Howe says. "Other areas, such as our database, PM frequencies, and PM procedures, are constant across the system."
Software By Committee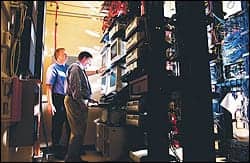 L-R: Dustin Telford and Scott James work on the configuration of a Philips database server at McKay-Dee Hospital.
The success of standardization initiatives is aided by an enterprisewide computerized maintenance management system, or CMMS, developed in-house. Called Emma, the Intermountain software program was first designed around clinical engineering's work processes but has since expanded to encompass other departments, such as facility maintenance and emergency preparedness, which use it to track their equipment. Comprised of one programmer and a testing team, the Intermountain CMMS development team maintains the program, including its backup.
Emma is a third-generation system; Intermountain's first clinical engineering software system was launched in 1985, establishing a culture of independent programming. "We've been doing our own auto-charting for about 25 years internally, and when it came time to develop our software, we did it in-house also," Howe says.
The need for the central database evolved from a shared equipment pool. The Intermountain facilities readily exchange equipment for patient need, and a reliable tracking system keeps the process efficient and the equipment available and locatable. Emma provides that capability, and with in-house developers, that ability is fluid, enabling them to tailor and implement changes more easily than with a commercial solution. Both users and the development team can propose modifications and upgrades, often based on need and market research, respectively.
"If a change is desired, it is presented to the CE Supervisors Committee. With their approval, it is sent to the directors, who, if approved [in their committee], will set a priority and forward the request to the Emma development team," Howe explains.
The process is constant. In his first year with Intermountain, Telford has seen several modifications released. "These are not fix-its, but additions, plug-ins, or add-ons," Telford says, adding they generally go smoothly. "The Intermountain [development] team does a good job working out the bugs before rolling it out to every level," he says.
The Intermountain clinical engineering team does a good job on its part by ensuring that all device information that may be needed is entered into the system when it is able to be captured, maximizing Emma's usefulness. "Many biomed departments don't realize the significance of putting this data in when they can," Telford says. "So, for example, when the state inspectors come in, they may not go off the serial number, but the state registration number. We have both at our fingertips."
Broader comprehensiveness in stored information translates into a greater ability to mine data and create efficiencies. Emma helps to track equipment (for more than one department and initiative, including recalls and alerts), troubleshoot problems, and identify devices needing replacement. Ultimately, these efforts improve the quality of patient care while simultaneously saving money.
For instance, using the system, the technicians can look across the enterprise for error descriptions similar to an issue they are facing to see if the problem has been previously encountered. If it has and a solution is provided, they may have a quick fix. A few years ago, the power supply on a particular defibrillator became a problem when it frequently would no longer work after being unplugged to permit a PM. "At LDS Hospital [Salt Lake City], we were able to find a solution using components that cost $1.35 and then share that with the entire corporation," Howe recalls. "So rather than paying $10,000 for a new power supply, each team paid $1.35 and some time for a technician to replace the parts."
Tracking By Committee
Of course, the system is also incredibly useful for the purpose for which it was designed: tracking equipment. The equipment logistics team uses Emma to manage the movement of devices from facility to facility.
"There is a lot of equipment that floats around from one facility to another, and with common standards and a common database, that equipment is never really lost or missing in action," says Dallas Clark, CBET, director of Intermountain's urban central regions (UCR) clinical engineering team. "If it shows up at a facility and is scanned, we know it's there and another technician just steps right in and takes over."
Devices can move with a specific patient during transfers or be shared between facilities to help cover periods of high activity. "Rather than remove the exact infusion pumps from the patient [being transferred], the team can just take two other pumps back to the original facility," Howe says.
Central processing manages this process, scanning equipment daily. "If a device is scanned in at our facility, then the techs at that facility will handle the preventive maintenance and service needs," says Jason Komenskul, team lead at the Utah Valley Regional Medical Center in Provo, Utah. Because these requirements are standardized throughout the system, equipment maintenance is consistent no matter the location.
Similarly, resources can be more easily moved and shared when needed. "If we didn't have the rental capability internally, we'd have facilities having to purchase extra pumps and let them sit in standby waiting for that high census that may come two or three times a year, and the rest of the time, they're just sitting idle. This way, the pumps are always fluid and always in use," James says.
Any questions regarding the pump, or any piece of equipment, Emma can answer. "With the systemwide solution, anyone in clinical engineering, anywhere in the enterprise, can look everywhere and find information," Clark says.
Equipment By Committee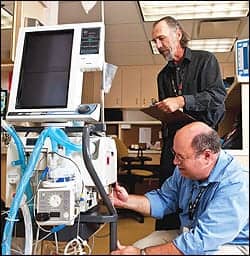 Robert Howe (foreground) and Dallas Clark perform preventive maintenance on a ventilator.
This information is used by a variety of committees, who can take advantage of the in-house development team to request modifications to support new initiatives, such as the collection of additional data or the creation of a different report. For instance, the Intermountain supply chain organization (SCO)—or materials management—/CE Directors Coordination Committee uses commodities reports to manage its responsibilities and share information throughout the system.
This group meets every other month and includes the clinical engineering directors, SCO sourcing managers, the CMMS development team, the CE Supervisors Committee chairman, the imaging service contract manager, and representatives from capital projects and acquisition and capital equipment services. "Each facility also has a PIT—product implementation team—that meets monthly with the SCO, clinical engineering, and clinical managers," Howe says.
Their work helps to ensure that the organization purchases quality products at reasonable prices. "Intermountain Healthcare does a very good job of finding the best price for the best product. It's rare the SCO winds up with a lesser product," Telford says.
That success comes from a collaborative effort driven by data. The planning process reviews equipment age, availability of manufacturer and third-party support, availability of parts, failure rates within and outside of the PM cycle, cost of ownership, and the level of the technology. "Can more procedures be performed within a given window of time? Is the patient data provided more reliable, or does it provide improved diagnostics quality and/or better patient outcomes?" James says.
Emma is key to providing some of this data. In addition, the program has a built-in, documented replacement schedule for all of the equipment in the health care system. For instance, "If the cost of ownership exceeds 50% of the purchase price, even though, by age, it shouldn't be replaced, by cost of ownership it has to be considered," Howe says.
Armed with current data, clinical engineering is able to help guide decision-making and is brought to the table with department heads and financial managers to prioritize needs and evaluate options. "There are planning discussions at least annually with every department of the hospital, and one of the stakeholders is the technician," Telford says.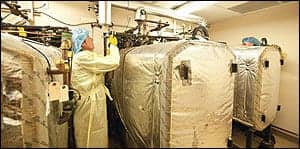 L-R: Kim White and Corey Henderson perform preventive maintenance on a Steris Eagle steam sterilizer.
As the "equipment expert," the technician's opinions are valued. "Sometimes there are hard choices to be made in a budget cycle, and we can advise our customers about what needs to be replaced first if you only have x dollars," Telford says.
This often takes the form of "five top concerns." "These are prioritized against last year's rollover items," Howe says.
Clinical engineering also advises on specific manufacturer choice, developing the criteria and conducting trials of potential products. "We'll bring a group of technicians together from throughout the corporation to sit down and evaluate a piece of equipment against its competitors, and then work out a criteria by which we're going to trial these devices," Howe says. "We then come back together and make a recommendation up through the directors to the SCO that this is a piece of equipment that we'd like to see purchased."
In this way, each facility does not have to undertake a clinical trial but can participate as resources and expertise allow and enjoy the benefit. The cost savings are significant, not only from the efficiencies of a consolidated effort, but also from greater weight in vendor negotiations and smarter replacement choices. "Our requests for capital last year went down by $2.5 million, showing us the plan is working," James says.
Work By Committee
With such a strong track record, clinical engineering's input is valued throughout the Intermountain organization. "We are sometimes asked by administration to participate in committees or work groups that have nothing to do with our clinical engineering duties, just to bring a different perspective to the table," James says.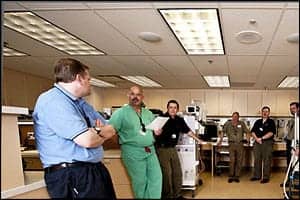 L-R: Dustin Telford, Kevin Odysseus (reviewing statistics with staff), Jason Komenkul, Kim White, Corey Henderson, Adam Drew, Robert Howe, Dallas Clark, and Scott James gather for the morning huddle to review stats from the previous day and plan the current day's work.
Committees the team regularly sits on include patient health information (PHI), Joint Commission Alert 42, information systems/clinical engineering disaster recover planning, and various safety committees. When regulatory agencies visit, a clinical engineering representative typically gets involved. When undergoing major construction projects, clinical engineering not only contributes to capital equipment planning, but also reviews room design, central station layouts, clinical network designs, plumbing, electrical, and other elements. The team often works directly with internal stakeholders and outside contractors and subcontractors to coordinate and ensure quality through planning, construction, and installation.
Time can get tight when dealing with multiple projects. "We've been building a lot the past 5 years, and it can get nuts at times because everything still happens just like it always does, but fortunately, the construction has now slowed and it's easier to stay up on the committee activities," Clark says.
The team works together to maintain high standards and performance. Most of the facility biomedical groups have several individuals with 20 to 30 years of experience, and turnover is generally low. Communication is key to operations. Teams meet each day, typically in the morning, to review schedules and worklists.
"We call it a huddle, and in just a couple of minutes, we run down what we're planning to do that day," Telford says. The short meeting keeps everyone apprised of ongoing projects, new initiatives, and individual and department workload. "It's a good starting point for building community and understanding about what we are all doing, and for seeing where we can lend a hand," Telford says.
Often, if a technician has a busy schedule, someone will offer to help out. Throughout the day, the teams can reach out for additional assistance over the intranet. "It's like a CE tech tips at our fingertips," Komenskul says. "We can communicate about issues we've noticed on different pieces of equipment to make sure teams are aware and confer about problems to resolve them, even before they appear."
This openness expands the resources available to individual biomeds as asking for help carries no stigma and no bureaucratic burden. "Technicians can contact colleagues at other facilities without notifying a supervisor or going through the chain of command for approval," Howe says.
Ultimately, everyone on the Intermountain team is bound by the organization's guiding principles that focus on six dimensions of care—clinical excellence, service excellence, physician engagement, operational effectiveness, employee engagement, and community stewardship—which should all result in extraordinary care. "At Intermountain Healthcare, we think about our connection to quality patient care and to customer service based on those principles," Telford says.
Each technician is expected to understand this mission and to use his/her talents to meet the needs of customers and achieve the goal of service excellence and extraordinary care. And if they have questions or discover a better way of doing things, their input is welcome and a committee structure is in place to facilitate it.
And that is how one manages a clinical engineering team comprised of 68 technicians operating in 23 hospitals and 152 medical clinics across five regions.
---
Renee Diiulio is a contributing writer for 24×7. For more information, contact .