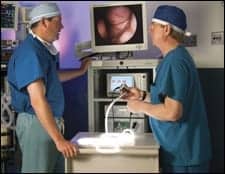 Bob Longan, right, conducts an in-service education presentation for orthopedic specialist Kevin Alvis of DePuy Orthopaedics Inc, Warsaw, Ind.
With a career that has run the gamut from working on fighter jets to fixing sagging operating room (OR) tables, the man affectionately known as "Biomed Bob" is truly a one-man show.
Bob Longan has been the lone biomedical technician for Rappahannock General Hospital in Kilmarnock, Va, for almost 20 years. After learning about electronics in the Air Force, Longan was working at a leading television and radio repair shop when his future literally walked in the door.
"A guy walked in one day in the summer of 1971 and asked if we were interested in working on heart monitors," Longan remembers. He adds with a laugh, "I realized that working on heart monitors would mean working with nurses, and that sounded good to me."
Working and going to school—both full time—did not slow Longan's progress in the industry. Just a few years later, he ventured out on his own, starting his own biomed corporation at just 26.
"At this time, most manufacturers, other than the really big ones, didn't have their own service people. They would contract with people like me to take care of their products after they were sold," he says. This provided ample opportunity for on-the-job training, which continues to serve Longan well to this day. "As soon as the service guys came in, the manufacturers would help us with installation and repairs—it was very hands-on."
Lifelong Learning
His passion for personal involvement continued when he took the biomed position at Rappahannock, where he stayed abreast of the latest technologies and trends by researching each new system as it was brought into the facility.
"Before it was even shipped, we would read the manuals and study what we were going to have to do to get it—and keep it—working," he says. "We did lots of homework and put together the details of what we were planning to do. If we had any problems we could call tech support or the engineering people at the manufacturer."
It was during this period that Longan learned one of the most valuable lessons of his career: Ask for help when necessary.
"You can never be afraid to ask for help; that is the only thing that will save you in this kind of job when you are by yourself," Longan says, noting that not taking this approach can lead to stress and bad decisions. "There is only one way to get along with a surgeon who's in the middle of a crisis in the middle of the case, and that's to be able to tell him or her: I don't know, but I am going to find out right now."
Professional savvy makes this type of admission easier, according to Longan, who believes that novice biomeds with no experience but lots of training may not have this perspective.
"They don't slow down," he says. "They have been told, 'This is what you do,' but they've never been told that this is what you do not do."
In fact, Longan believes that a little bit of training in anyone, regardless of the amount of experience they have, can lead to overconfidence. He uses the example of three new ventilators installed in his hospital. He is not responsible for the bulk of the maintenance on the ventilators, but every 2 years a performance validation inspection must be done on each system.
"If someone were to convince the administration to spend money on training and test equipment for that, then the biomed goes to training but doesn't do any of what they just learned for 2 years, what are the chances that they are a pretty dangerous person?" Longan asks. "When you go to a mechanic, you don't want the guy who works on your type of car every couple of years. You want someone who does it every single day."
This type of situation is the exact one in which Longan relies on his rule of asking for help when necessary. Whether or not vendors make that assistance available when biomeds need it is a direct reflection on the amount of work put into selecting and purchasing systems.
"When something is wrong and you have done everything you can think of, you should dive for the telephone and say, 'I'm in trouble, can you help me, or give me your guru on this?'" Longan says. "If you don't have a vendor that will do that, you haven't done the due diligence before you even purchased the products, and you have made a mistake in buying the equipment."
Longan does several things to avoid such scenarios, working to ensure that the equipment the hospital purchases will be maintainable, and that the support, when needed, will be there. For one thing, he is involved in most purchasing decisions from the very beginning, with the exception of x-ray, laboratory, and OR equipment. "I stay out of those because they tend to be more doctor-driven, but everywhere else, you bet I'm involved," he says.
The process starts when a staff member tells Longan there's a need for a new system or replacement equipment. "Then I contact the vendors, because I want to make sure that they know what they're doing before I bring them in as someone who is recommended by me."
Part of this process includes researching manufacturers and products online, as well as actively participating in an online community, where biomeds are able to ask other professionals about their experiences with particular types of equipment and vendors in terms of maintenance and accessibility to assistance.
"I've made some mistakes over the years, but now I know who to stay away from," Longan says. "When I don't, I get on Biomedtalk [Biomedtalk.org] and send out a note asking people if they've had any experience with a particular vendor or system. And trust me, they'll e-mail you."
His work doesn't end with the purchase decision. For instance, when two brand new chemistry analyzers were installed in the hospital, Longan was involved with the facilities portion of the project. "I oversaw that implementation; I made sure all the preparation was done for those, including all the plumbing," he says. "Everything that needed to be done, I made sure that it got done. Although I am not involved with maintaining the analyzers, I get involved in bringing them into the hospital, because it's still my lab."
Keeping It Together
As is the case in many biomed departments, Rappahannock purchases service contracts on the most complicated systems, including digital imaging such as MRI and ultrasound, and the clinical lab. For all other systems, Longan—as the only biomed on staff—is responsible for more than 500 pieces of equipment in the 76-bed hospital.
The sheer volume of work makes it imperative for Longan to stay in close communication with the staff he serves. In addition to making rounds, he makes a point to talk with the medical staff about how their equipment is functioning.
"One thing I firmly believe: Don't ever talk in technobabble," Longan says. "Learn how to speak English with regard to technology so people can understand."
Not only does this ensure that clients understand where the biomed is coming from, what he or she is trying to explain, and what actions, if any, are needed, but it goes a long way toward establishing a professional, symbiotic relationship.
"If you don't communicate in a way they understand, they will turn you off and they will never call you again. Talking above them makes them feel inferior, because you understand what you are saying, but they don't," Longan says. "You absolutely must be able to communicate in a language that people understand. If you can't, just show them how to use it."
Not only does clear communication keep customers happy, it makes Longan's job easier when it comes to monitoring and tracking various pieces of equipment throughout the hospital. Instead of working alone to track each piece of hardware, he enlists the help of those who use the technology every day.
For example, quarterly checks are required on all blood warmers. Each of these systems is labeled with a preventive maintenance (PM) number.
"I use numbered PM labels, so all the equipment with a "five" on it means that system is due to be checked in the fifth month," Longan says. Nurses and their assistants then keep an eye out for pumps coming up for maintenance. "That way, they help me find the equipment; I need the staff to help me do what I have to do."
A customized software program helps guarantee that all PMs are done in a timely manner. Rappahannock purchased a software system that alerts Longan to quarterly inspections required for blood warmers by automatically generating work orders for regularly scheduled tasks. But, in keeping with his style, he believes it could be done for less if a facility is on a tight budget.
"The best thing to do in that case is find a 'guru' in Microsoft Access and let them design a program for you. That's what I did for years," he says. "The program we have now is good software, and it does keep me organized, but there are Access experts out there who can make that program do everything we need to have done in this area."
Under Pressure
Being the entire biomed department definitely provides job security, as well as abundant responsibility. "I've got doctors who faint when they find out I'm going out of town for the weekend," Longan laughs. The hospital does not use any on-call or temporary services to cover in his absence. "I'm it, so I just take 1-week vacations, and even then, the hospital knows where I am and how to contact me in case of an emergency."
One way the hospital has been able to make this approach work for the almost 2 decades that Longan has been at the helm is by maintaining equipment as it is originally manufactured. No customizations or modifications are allowed on any of the equipment in the hospital.
"The reason is if a piece of equipment fails, we know that within 4 to 5 hours we can get a vendor tech in here and the system can be fixed, because it is totally stock, nobody has messed with it," Longan says. "If you start customizing, they are going to tell you that they can't touch it."
Which is not to say he doesn't employ work-arounds when they make sense. Recently, one of the hospital's pulse oximeter probes wasn't staying in place because one of the clips was no longer working.
"It's $120 for a new cable, but I found a little part for $5 that works," Longan says. "You've got to be resourceful: Scrounge around and do your research; the Internet is invaluable for that type of thing."
He also makes the most of relationships with suppliers, if for no other reason than to get samples when needed.
"If you need one integrated circuit, ask if they will give you a sample. Of course, you've got to have enough experience to know that that is the problem," Longan laughs.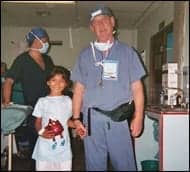 Longan, volunteering with Operation Smile, returns a postoperative child to her parents.
Sharing a Smile
There have been only three exceptions to Longan's standard weeklong sabbaticals; on three occasions, he has taken 2 weeks off at a time. One was for his marriage and honeymoon, and the other two were participating in Operation Smile medical missions.
This year marks 25 years of Operation Smile's work in coordinating teams of medical volunteers who work at more than 30 medical mission sites in 25 countries, providing free surgeries to repair children's birth defects, such as cleft lips and cleft palates.
In recent years, Longan joined teams in Bolivia and Venezuela, and he hopes to participate again in the future. Despite the demanding schedule and heartbreaking conditions of some children, Longan believes it is important work and encourages other biomeds to get involved.
"I help change their lives. They no longer have to worry about being slid under a bed when people come around because their parents are ashamed of them," he says. "And the nurses and doctors were some of the greatest people I've ever worked with."
After setting up, and in between repairing the medical equipment, biomeds are often called upon to deliver the postoperative children to their delighted parents. "Talk about a rush; it is probably one of the best things I've ever done. It's just amazing," Longan says. "You have to understand, these children are considered evil in these countries, and now they're not. And I had something to do with that."
Regardless of where he is working, from the East Coast to the third world, Longan believes that treating people with respect, knowing how to speak with them, and working together for a common goal are the keys to success. He adds that the most important thing of all is understanding that each person, in his or her own way, is involved in helping to take care of the sick.
| | |
| --- | --- |
| Read other department profiles in past issues of 24×7 – search our online archives. | |
"That's why we are here—it's not for the money and not for the glory. We are here to try and feel good about what we are doing," Longan says. "That is the thread that runs through all of this—being a biomed, working in a small hospital, Operation Smile, the whole thing. I have to feel like I'm making a contribution."
Dana Hinesly is a contributing writer for  24×7. For more information, contact .