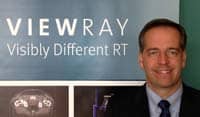 ViewRay Inc, a privately held medical device company, announces that its board of directors has appointed industry veteran Chris A. Raanes as president and CEO, effective immediately.
Raanes joins ViewRay from Accuray Inc, where he served as executive VP and COO. At ViewRay, he is tasked with driving the worldwide commercial growth of the ViewRay system, which provides a combination of simultaneous radiotherapy delivery and continuous magnetic resonance imaging for the treatment of cancer.
"Chris is an ideal fit for ViewRay," said company founder James F. Dempsey, PhD, now ViewRay's chief scientific officer. "His wealth of experience in the launch and maturation of radiation therapy devices, along with his record of driving new clinical approaches in radiation oncology, will help to bring the benefits of ViewRay technology to the widest possible group of patients."
Raanes succeeds Gregory M. Ayers, MD, PhD, who the company said successfully guided the ViewRay system through its early commercialization and marketing clearance from the FDA.