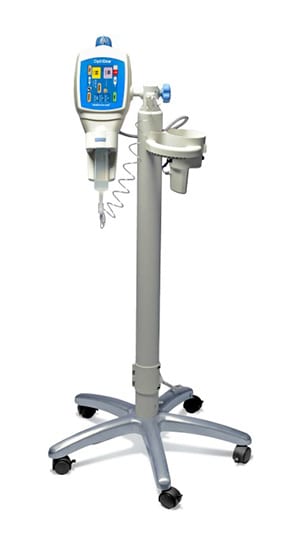 France-based Guerbet has received FDA 510(k) clearance for its OptiOne single-head contrast delivery system, which features advanced functionalities for CT procedures. The OptiOne—an entry-level, single-head injector launched last year in Europe—is available in ceiling-suspended and pedestal form and is designed for the injection of radiopaque contrast agents in the vascular system of patients. Each injection is accomplished with a motor-driven syringe mechanism with microprocessor control of the flow-rate, volume, pressure, and timing.
OptiOne, which provides optimized contrast media usage, adapts to the workflow of imaging departments, Guerbet officials say. And along with offering a fully programmable power-head with simple bedside operation, the system accommodates prefilled or empty syringes.
"We are extremely pleased to announce the availability of this newest injector system, as we believe that it offers additional flexibility to our customers, while providing the features technologists have come to expect from Guerbet," says Massimo Carrara, Guerbet's US general manager. The US approval, he says, builds upon Guerbet's goal of bringing its contrast media and imaging systems to the worldwide market.
Guerbet is showcasing the injector at this week's European Congress of Radiology in Vienna.
For more information about the OptiOne system, visit Guerbet's website.