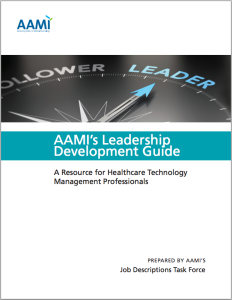 As part of the annual HTM Week activities slated for next week, AAMI will host a complimentary online leadership seminar to honor and acknowledge the professionals who service and maintain lifesaving medical equipment. The AAMI-hosted presentation is titled "Developing HTM Leadership Skills," and will be held on Thursday, May 21, 1:00 pm–2:00 pm CDT.
The presenters are Dan DeMaria, director of healthcare technology management at Olathe Medical Center in Olathe, Kan; and Joseph Dysko, senior director of clinical engineering and capital services with Dignity Health in Phoenix, Ariz. Both presenters are members of AAMI's Technology Management Council (TMC) and AAMI's Healthcare Technology Leadership Committee (HTLC).
According to the AAMI announcement for this special event, the presenters will explore AAMI's new HTM Leadership Development Guide, and will share their thoughts on how HTM professionals can grow and demonstrate their own leadership skills.
To learn more and register for the May 21 online leadership seminar, visit the official registration page.
For updates and additional information about this event and others slated for HTM Week, check in to the HTM Week events page.