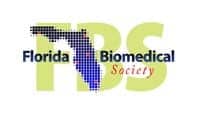 The Florida Biomedical Society (FBS) has a new look! The group recently unveiled its new logo that includes the society's multiple chapters throughout the state marked in red on a blue map of Florida. The large green letters FBS provide a backdrop for the entire logo.
According to the association, the logo "represents a firm footing in the traditional roots of our profession. Now, the logo, with its crosshatch pattern for the state … represents changes towards the information age as well as a sense of community."
FBS said it hopes others will find it a fair representation of its vision, goals, and desire for professional growth.
The FBS also announced details about its 2013 Florida Biomedical Symposium. The event will take place from October 31 to November 3. Although the event is seven months away, it is never too early to reserve the date on the calendar. This year's symposium will be at Walt Disney World's Yacht Club Resort.
Attendees can go to educational sessions, a trade show, and meet others in the field. Organizers encourage C-suite and radiology department directors to attend too. Visit the association website for more information.