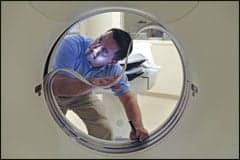 Michael Bargesser, CEMP supervisor of CT/MRI, inspects a CT device.
Novant Health, headquartered in Winston-Salem, NC, created a vision in 2005, a vision it titled, "Vision 2010." One of the primary ideas embodied in the initiative was the significant growth of the organization. Novant Health is currently on track to triple its size and revenue by 2010.
Concentrating on opportunities in a five-state area (Georgia, North Carolina, South Carolina, Tennessee, and Virginia), the organization has expanded its seven hospitals to nine; added roughly 300 physician practices; acquired MedQuest Associates Inc and its 92 imaging centers in 13 states; and begun construction on four new hospitals—since 2005. While growth this successful can be exhilarating, it also can be a strain on resources.
The biomed department of Novant Health, today know as the clinical equipment management program or CEMP, maintains more than 29,000 devices across three states, with more than 54,000 annual service events, according to Alan Koreneff, MBA, corporate director of Novant Health's CEMP. He leads a team of 60 full-time employees (FTEs)—one director (himself), four managers, three business system analysts, 31 biomed techs, and 21 radiology engineers—and each time Novant expands with another facility, they all get busier.
When Novant Health acquires a new hospital, the business systems analysts, for example, are responsible for setting up its database and transitioning the typical 2,500 to 2,700 devices, while corporate is expanding the biomed staff, offering proper training, and providing necessary tools such as laptops and keys.
"Finding FTEs is probably one of our biggest challenges," Koreneff says. "There just aren't a lot of qualified people out there." Although Novant does not require certification on the part of its biomeds, it is a preference, particularly for specialists and supervisors.
To get around these challenges, CEMP has implemented a number of solutions, from the establishment of close relationships with schools and vendors to restructuring the department to expanding services.
ANATOMY OF CEMP
The biggest change, according to Koreneff, was the restructuring of clinical engineering services. Prior to 2006, Novant Health's biomed program involved three clinical equipment management programs within two regions. Each had its own database and reporting structure. In 2006, the different groups were consolidated into one corporate entity: CEMP. Policies and procedures were standardized, and data was migrated into one database.
The new CEMP was made part of the supply chain structure, where it reports to Tony Johnson, senior vice president of Novant's supply chain. Sister departments include strategic sourcing and logistics, "where all the supplies for all of the different Novant hospitals come and are then trucked out to different facilities," Koreneff says.
A Good Deed Is Its Own Reward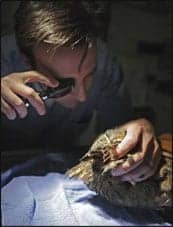 David Scott, DVM, examines an injured raptor with a donated ophthalmoscope (above); and reviews a digital image on a donated CR system (below).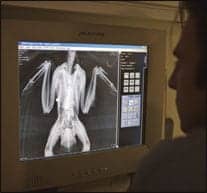 Health care professionals tend to find their work rewarding for obvious reasons—they help people. At Novant Health, headquartered in Winston-Salem, NC, health care professionals can find a little extra reward helping another species—birds.
About 2½ years ago, Novant learned that the Carolina Raptor Center Inc, an education, rehabilitation, and research center devoted to birds of prey, was looking for a heart monitor. Novant wanted to help, and the relationship soared from there. Although the clinical equipment management program (CEMP) of Novant Health could not locate a heart monitor with parameters appropriate to capture the 300-beat-per-minute heart rate of a bird, it did recognize it could help in other ways. The Carolina Raptor Center is now a part of Novant's 5-year plan.
"As an avid outdoorsman, I was pleased to hear our department had adopted the Carolina Raptor Center," says Mark Webster, CEMP biomed technician specialist. "Donating and repairing equipment is great to do. I did not think they would need much equipment, but when I got to the Raptor Center, I was surprised at the size of the facility and I changed my mind about the amount of equipment they needed. The outdoor cages to keep the birds are impressive. When I saw the operating room I realized that the equipment they needed did not need to be super high tech, just reliable and functional. It is a pleasant change from the hospital environment working on equipment for them."
The raptor center treats approximately 800 birds per year, which equates to a few birds per day, according to Dave Scott, DVM, a veterinarian at the institution. According to Scott, the donated equipment "has revolutionized the way we care for the birds."
Many of the birds brought to the center for care need medical imaging to complete their diagnosis. Prior to a donation from Novant, these images were captured on a conventional film x-ray system. "We had dip tanks to process the film and clothesline on which to dry it," Scott says.
This past year, CEMP installed a CR system, endoscopy system, medical oxygen system, anesthetic vaporizer, and two PACS workstations at the Carolina Raptor Center. About 12 CEMP technicians have donated more than 200 hours to complete the installation and necessary maintenance, according to Alan Koreneff, MBA, CEMP corporate director.
CEMP asks the center to create a wish list every year, which it then compares to its inventory. "Everything we've installed has come out of service that we would either put into a warehouse or find a buyer for," Koreneff says. Donating the equipment gives Novant a tax break, but more importantly, it gives the injured birds a greater chance at a better outcome.
"Now, we can take an image, turn it around in about 90 seconds, make a diagnosis, and get the bird into surgery within 10 minutes," Scott says, who notes the CR system is used anywhere from one to 10 times per day. The streamlined workflow means the center can treat more birds more quickly, producing better outcomes and saving more patients, while also saving resources by not treating birds with no hope of release. According to Scott, the donated equipment "has revolutionized the way we care for the birds."
—RD
Currently set up in temporary housing, CEMP is awaiting completion of a new 4,000-square-foot depot repair center (the center is expected to open in June or July of this year). In addition to centralizing support operations and parts storage, the new center will provide space for repairs on high-volume, low-risk devices, such as infusions pumps, as well as provide for new service programs. Endoscope repair, instrument sharpening, and MRI coil repair are possibilities being explored. The space will accommodate seven bench techs and offer an area for field service technicians to complete paperwork.
Much of the Novant Health biomed team operates as field service technicians; team members specialize in devices, not facilities, a structure that allows greater expertise and associated capabilities. The team has a fleet of about 17 vans it uses to make service calls. The centralized system has proven more efficient than the decentralized structure of the past.
"We are able to service more facilities using this model," says Michael Bargesser, supervisor of CT/MRI. "Before, we were stuck at one facility, but now we can be at any site, on any day of the week, at any time of the day." The radiology team keeps a field service tech on call during off hours, as do the other business segments. On-call staffing at each facility is determined on a per-case basis, with bigger facilities tending to have more extended services than small sites.
CEMP'S SERVICE MENU
Currently, CEMP field service modalities include sterilizers, CT/MRI, nuclear medicine, anesthesia, and PACS. Bench techs handle the high-volume and medium- or low-risk devices, such as IV pumps, PCA pumps, sequential compression devices, and transducer cables and modules. The team also provides evaluation and consulting services in the area of equipment disposal, regulatory compliance, risk management, and needs assessment consulting.
When a new facility is being considered for acquisition, a due diligence team that includes one or two biomed representatives (often Koreneff and the appropriate manager) examine the data. The biomeds will review inventory lists and, if the process moves forward, perform site visits, during which they verify the inventory and its condition.
Biomedical/clinical engineering is also included in sourcing decisions, helping to review products and contracts to make sure that the heath system gets the greatest value for its money. "For a device to be purchased, even a small one, it has to come through us for approval," Koreneff says.
Novant benefits from its large size, taking advantage of volume pricing and unique offerings. The participation of CEMP ensures that items such as training and software keys are included with purchases. "Because of our size, when bundling into one contract, we get better labor rates, parts discounts, and discounts on items like the software keys themselves," Koreneff says.
STRATEGIC SOURCING
These aspects of a contract can help an institution get the most value both from the vendor and its in-house clinical engineering department. "You can't do everything in-house completely, but you shouldn't contract everything as well," Koreneff says.
Some segments, such as anesthesia and sterilizers, rely less on vendor service than others, such as endoscopes or MRI. But each contract will be considered for the availability it provides not only to service, but also to parts, training, and software. Hours and downtime are addressed as well.
Novant has been successful in expanding manufacturer preventive maintenance hours to more closely match its own, for instance 8 am to 9 pm rather than the more typical 8 am to 5 pm. The organization also demands faster response times: 2 hours rather than 4. And it maintains a high priority for the vendor even if a full-service contract is not in place. Each contract is negotiated to provide the appropriate ratio in each area that complements the in-house program.
For instance, Novant's strategic sourcing group is considering RFPs for ultrasound to cover the hospitals, 35 MedQuest imaging centers, and hundreds of clinics. CEMP cannot cover the entire geography, so the group would like to cover the hospitals and associated imaging centers and negotiate manufacturer service for the clinics and off-campus imaging centers; new centers will be absorbed into the agreement. It also will push for the contracts to include guaranteed parts discounts, which are possible because of the volume, as well as an inventory of probes to maintain on-site. "For us, probes are the most common [part] to fail, so if we keep them on-site, we eliminate downtime," Koreneff says.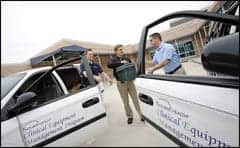 Above, L-R: Mike Eggers, Mark Webster, and Michael Bargesser load Novant Health field service vehicles with parts and tools. Below: Mark Webster inspects the truck's inventory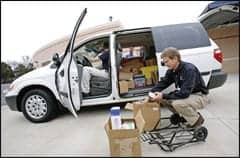 CEMP will also negotiate training into RFPs, usually asking for significantly reduced rates or a certain number of classes every year. As Koreneff says, "You can't internalize new services without the training to take care of new equipment."
A BROADER SERVICE MENU
CEMP does not rely on manufacturer training from purchases alone. Novant maintains a training budget for biomeds and clinical engineers, which can be used for seminars, conferences, and second-source training institutions (such as Continental Equipment Co, Tonganoxie, Kan, which offers training in sterilizer maintenance and repair).
Mike Eggers, field service specialist, sterilizers, CEMP, has taken classes alongside servicemen from manufacturing companies. "So we know the same things they do," he says.
As CEMP prepares to bring endoscopy maintenance and repair in-house, it has considered the endoscope experience of its staff. "To take on endoscope repair, you need some experience," Koreneff says. Although CEMP will handle the easy fixes and minor repairs, these will account for approximately 80% of the service needs.
Koreneff would like to hire at least one biomed with this experience, but will also have one or two existing personnel undergo training. With the new depot center not scheduled to open for months, the expected 90-day coursework is not yet urgent.
The organization's sterilizer program is serving as a guide. The service was started with one thoroughly trained individual, and since its inception two other biomeds have completed training.
The specialized knowledge makes CEMP particularly valuable to Novant and helps to sell the case for expanding the department's in-house services. "We have to create value to show that eliminating [vendor] contracts and bringing service internal is worth it," Koreneff says, citing not only cost savings but also equipment uptime as persuasive advantages.
Mike Eggers, field service specialist, sterilizers, performs preventive maintenance on an ultrasonic cleaner (L); and rebuilds a valve (R).
BUSINESS SYSTEMS
Of course, buy-in is attained more easily with more successes, and the best way to show success is to prove it. CEMP sets goals, tracks data, and formulates reports to help guide business decisions. "You don't change or improve anything without tracking it," Koreneff says, who credits the business systems analysts with excellent report-making skills. "We are able to create any report we want to track anything we want."
Technology also plays a role in the daily operations. Each biomed carries a phone and a laptop, and can access the clinical equipment management system remotely using the Intranet or wireless technology accessories. The CEMS software—due for an upgrade, according to Koreneff—tracks work orders, PMs, costs, turnaround times, and other data. The system can be modified to track whatever data the team may be interested in. For instance, data on MRI coils will help to determine whether to bring the service in-house.
The radiology team employs a modality tracker to help track its work, a response to the high demand for biomedical/clinical engineering services in CT and MR, according to Bargesser. Using the system, the team knows where every CT and MR device is located, when the PMs are due, and who is responsible for the system. Throughout the entire Novant system, each device in CEMP's clinical equipment management system is assigned to a specific biomed.
"All the guys have access and can check [the modality tracker] at any point," Bargesser says. The information helps the field service technicians to better plan their time. "The modality tracker lets you set up PMs and manage your area of responsibility so that workloads are balanced."
The technology also helps manage other programs, such as the safety device recall program and the savings scorecard. "It has helped us out a lot to be able to track devices and alert recalls. We can find out if we have that equipment and exactly where it is," says Mark Webster, CEMP biomed technician specialist. Prior to the new procedure, recalls risked "falling through the cracks."
Similarly, by tracking costs, the system also permits individual biomedical/clinical engineering technicians to track their contributions to the bottom line and prevent their efforts from getting lost in the shuffle. At the end of the year, every biomed turns in a spreadsheet detailing work orders and where they saved money. "They can take credit for savings—for instance, how much they saved second sourcing a part," Koreneff says. The team also can take credit as a whole. In 2007, scorecards showed that CEMP has saved Novant roughly $1.8 million.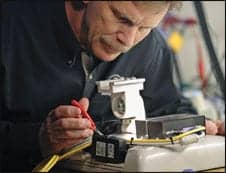 Mark Webster, biomed technician specialist, configures a new display for mounting
VISIONARY CONCEPTS
Of course, while saving money helps to win over administrators, clinicians and patients are more concerned about quality service. CEMP has had to win over the hearts and minds of both its overseers and its customers. "With new clients who have been dealing with the same faces for 5, 10, or 15 years, you have to go in, gain their respect, and let them know you are able to take care of them—you have to prove yourself," Bargesser says.
Eggers concurs, adding that sometimes you also have to overcome the stigma that only manufacturers can provide excellent service. "We have to learn the processes at each facility and how they run their tests, and do our best to keep up with their process," Eggers says.
Customers report problems online or through a 24-hour call service. "Callers get a live person who can ask a few questions to determine the problem and the correct service technician," Bargesser says. If the first engineer does not respond within the appropriate time, the service will page them again. If there is still no response, the call will escalate to a manager. "So someone will always answer a call," Bargesser says.
CEMP policies and procedures are reviewed monthly during biomed task force meetings to make sure the team is meeting client and organizational needs. Every business segment of CEMP is represented on the task force, which also reviews changing technology criteria, new regulatory requirements, and innovative ideas.
"There's so much going on that it's hard to stop and look back at what we've done," Koreneff says. "We need to keep looking forward to what we will do next." This forward thinking has enabled CEMP to meet the rapidly growing needs of Novant Health. Currently, CEMP is on track to enhance Novant's vision.
---
Renee Diiulio is a contributing writer for 24×7. For more information, contact .