Tom Citak
Educating high school students about the opportunities available to them in the biomedical equipment technology field has been a passion of mine over the past decade. Working with electronic/computer instructors at three local vocational technical schools in Rhode Island has proven to be very worthwhile. Along with some assistance from fellow colleagues, we were instrumental in hosting several career days at these schools to introduce students enrolled in electronics, computers, and occupational health care to the field of biomedical equipment technology. I gave my slide presentation on biomedical equipment technology with an emphasis on how to become a BMET, colleges that offer this curriculum, a basic course outline, internship opportunities, and I showed many photos of medical equipment a BMET would perform service on, such as electrocardiographs, patient monitoring systems, anesthesia, respiratory, surgical, dialysis, radiology, diagnostic ultrasound, physical therapy, laboratory, and much more. Additional emphasis was placed on where a BMET would find employment and I listed a variety of service providers, manufacturers/vendors, and, of course, hospitals. I summed up my presentation with a display of a 2009 article in U.S. News & World Report that listed biomedical equipment technology as one of the "Best Careers."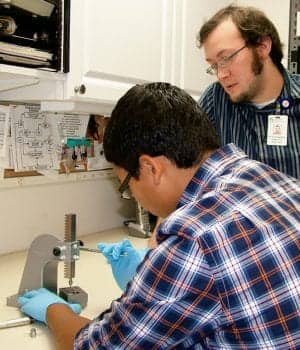 L-R: Student Jonathan Reyes shadowed by BMET II Kyle Fitzgerrel, Our Lady of Fatima Hospital, RI.
Last year, our clinical engineering department coordinated an internship program with the Metropolitan Regional Career and Technical Center (MET), Providence, RI. The MET school is a state-funded public school and local education agency that serves 690 high school students in six small schools across three campuses in Rhode Island. This high school uses practical learning experience in actual working environments. This concept of learning gives students the opportunity to spend some time working in a field they think they may like to pursue after high school. They learn through interests. The curriculum is created in response to students' interests, taking advantage of out-of-school opportunities as well as developing in-school opportunities like internships to engage students in real-world learning. The MET school implements authentic assessments to assess student learning. Through successful techniques, students will understand what they want to do post high school. This concept of blended learning and available resources is used to engage students, tap their interests, and keep them in school, and has proven to be very successful. Every student has an individualized learning plan built around that child's needs and interests, while incorporating the MET's rigorous learning goals. Parents and mentors are active members of the student's learning plan team, working with the adviser to develop the best curriculum for that child. Strong relationships with parents, family, the community, business, government, and other educational institutions are key factors that contribute to the success of MET students. Each individual student is assigned an adviser who conducts ongoing consultations and follow-ups throughout the year. The employer works with these advisers to help customize a program for the student. Last school year our department hosted up to three students who demonstrated an interest in biomed after sitting in on one of my presentations. One student per semester has shadowed a biomedical technician for 5 hours twice a week. Two students each volunteered to pick a device to their liking and created a poster, which was displayed in the hospital cafeteria lobby during National Clinical Engineering Appreciation Week this year. To date, the MET has inspired an international network of more than 80 similar schools, all founded by Big Picture Learning.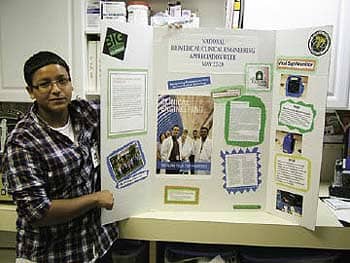 Jonathan Reyes, a sophomore at the MET school in Providence, RI, shows the biomed poster he created for the 2011 National Clinical Engineering Appreciation Week.
For several years now, I have been actively involved with two local colleges serving on an advisory board and offering some insight into the potential of starting a biomedical program. It finally paid off with one local college willing to offer a biomedical electronics elective. Professor Michael Recorvitz of the New England Institute of Technology was instrumental in adding biomedical systems to the electronics systems engineering technology program beginning this fall.
The associate in science degree in electronics systems engineering technology provides training in one of the most fundamental and important fields in technology today. The first five quarters provide a core foundation of knowledge in electronics and electronic systems. During the last quarter, a student focuses on one of two directions: continuing on toward the bachelor's degree or entering the workplace after earning an associate's degree. The associate degree program is designed to give students entering the field of electronics a sound, comprehensive foundation in the skills employers are seeking in an electronics technician. Beginning with electronic foundation core courses and culminating in electronic systems, the curriculum provides the knowledge required to succeed in this modern high-tech field. Laboratory projects have been developed to provide hands-on experience and to simulate actual job conditions. The lab projects are highlighted in courses such as telecommunications, digital electronics, data and acquisition control, microprocessor control, programmable logic control, and robotic control systems. Students also have two to three technical elective choices in areas such as renewable energy systems, Cisco Networks, CAD, and biomedical systems.
I have been helping the college obtain biomedical equipment for the student lab on its new campus. If anyone has any surplus medical equipment or biomedical test devices they would like to donate, please contact me at The college is nonprofit and will send a donation letter for any contributions.
---
Tom Citak is the clinical engineering manager, St Joseph Health Services, North Providence, RI. For more information, contact .
Links to Schools Discussed in the Article:
What's on Your Mind?
Got a gripe? A recommendation? Does someone or something deserve praise? Share your opinions and insights with your peers. Soapbox columns should be 850 to 900 words in length and can be e-mailed to .